Benefits of measuring employee time with a biometric time clock solution
by Gabriele Kaier, 23.09.2016
What are biometrics? Biometrics are automated methods of recognizing a person based on a physiological or behavioral characteristic, such as a fingerprint. Fingerprint reader to clock in and out A biometric time and attendance system reads the uniquely identifiable characteristics of a fingerprint and associates an employee. When an employee identifies themselves by fingerprint, the […]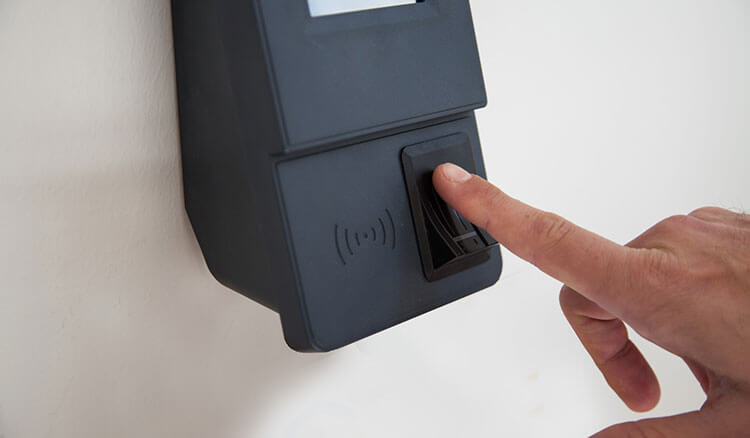 What are biometrics?
Biometrics are automated methods of recognizing a person based on a physiological or behavioral characteristic, such as a fingerprint.
Fingerprint reader to clock in and out
A biometric time and attendance system reads the uniquely identifiable characteristics of a fingerprint and associates an employee. When an employee identifies themselves by fingerprint, the biometric hardware device scans the fingerprint and compares it to the available templates to find an exact match.
If you are not familiar with biometrics and this concept as a method of tracking employee time, you maybe have some fears that this could be an infringement of personal privacy. Therefore it is important to know that only specific characteristics which are unique to every fingerprint, are filtered and saved for the use of verification. This is only a series of numbers; a binary code. No image of a fingerprint is ever saved. The algorithm cannot be reconverted to an image, so fingerprint images cannot be replicated.
The Benefits of Biometric Time Clocks
Avoids buddy-punching

Buddy-punching undermines the ability of a company to maximize return on investment (ROI), accurately forecast strategies for future growth and maintain faith in the integrity of their workforce. The implementation of a biometric time clock eliminates the possibility of one employee punching in for another and safeguards your business against fraud.

Fingerprints are much harder to falsify than identity cards

You cannot guess a fingerprint pattern, like a password

You cannot misplace or forget your fingerprints
Costs and implementation of a Biometric Time Clock
It is very easy to set up biometric time clocks and they are practically maintenance free. And they are more affordable than you may think.
The downturn in fraud through buddy-punching greatly outweighs the initial investment on this time tracking solution.  In addition to practically eliminating buddy-punching, it helps against human error in time and attendance calculations.
TimeTac Biometric Time Clock Solution
TimeTac offers numerous solutions which are adaptable to suit the specific requirements of your company. These employee time clocks work in combination with our desktop browser and smartphone solutions, combining the numerous benefits of a cloud based time tracking solution and a simple, easy to use time clock. Interested in more information or in a screen-sharing presentation? Contact us