Provider:
Auth0
Category:
Identity & Access
Application:
Auth0-Integration
Single-Sign-On (SSO) with Auth0
SSO - Secure Access and User Experience for All Employees
Access multiple applications at once with a single set of credentials. To configure SSO for TimeTac, you need a SAML 2.0-compliant identity provider (Idp), such as Auth0.
Your Benefits at a Glance
Only one set of credential for all your services and programs
No more worries about insecure passwords in the company
Your team gets instant access to newly launched applications
Managing different sets of login credentials will become history
Logging in once for all programs is convenient and helps save time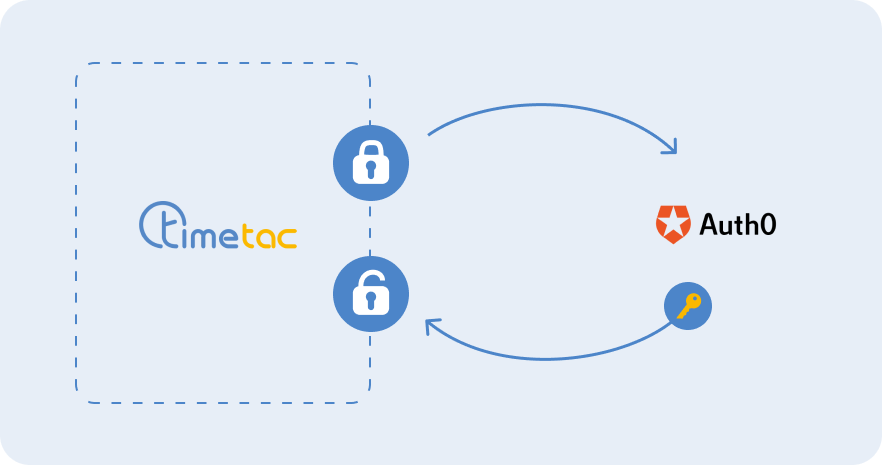 This Is What We Need From You for the Configuration
To set up SSO for TimeTac, you need an Auth0 account with one of the following permissions/roles as a prerequisite: global administrator, cloud application administrator, application administrator or owner-of-the-service.
Make the SSO configuration in your Auth0 account.

Log in to your TimeTac account.

Click "Settings" in the menu and select "Account settings".

Go to "SSO Configuration" and start configuring TimeTac as SSO service provider: fill in the service provider details.

After you complete the configuration, SSO is enabled as the login method for your TimeTac account.

Test the SSO login by logging out with your TimeTac User and logging in again using SSO.
About Auth0
Auth0 is the first identity management platform for application development companies. With a mission to protect identities worldwide so pioneers stay innovative, Auth0 provides the simplicity, extensibility and expertise to scale and protect identities in any application for any audience. Auth0 secures more than 100 million logins daily and helps businesses deliver trusted and elegant digital experiences for their clientele.
About a Platform
Auth0 is a cloud-based identity management platform that helps organizations across a wide range of industries securely manage login activities, user profiles and credentials. Features include user-defined domains, embedded authentication, SSO, database migration, account linking, log retention, and streaming.
The platform enables developers to create universal credentials for employees and control social logins, multi-factor authentication, and anomaly detection for registered applications. Auth0 includes a user management dashboard that helps administrators with password resets, role-based permissions and provisioning/deprovisioning of user accounts. The solution maintains a database of breached credentials that enables security teams to review and block unauthorized login attempts in real time.
Log in Fast and Securely with SSO in TimeTac
Configure SSO for your time tracking and leave management with TimeTac.
Log in Fast and Securely with SSO in TimeTac
Contact Us!
Configure SSO for your time tracking and leave management with TimeTac.