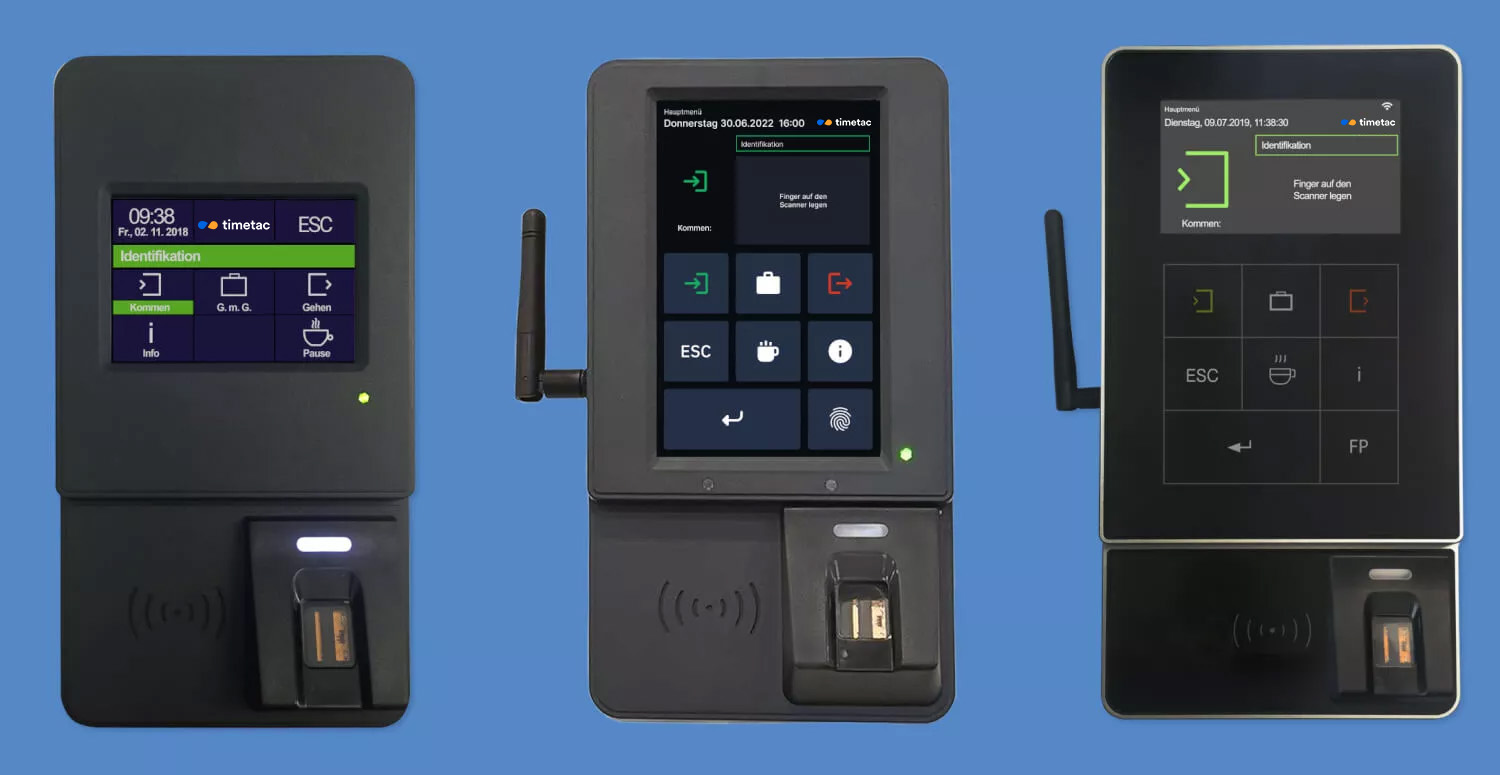 Clocking in Machines and Systems for Employees
Track Time with RFID/NFC key fob or optional via Fingerprint
Simple and cost-effective solution for in-office employees
Intuitive and therefore ready to use
Clock in and out easily with RFID/NFC key fob/card or fingerprint
Can be combined with time tracking on PC, Mac & Smartphone
Use it in combination with our software, no additional setup required
30 Days Free Trial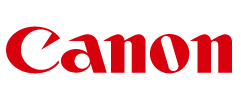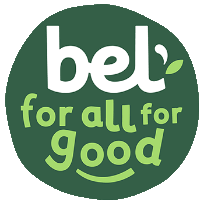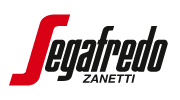 Clocking in Machines
---
Track Time via Our Clocking in Machines and Use All the Benefits of the Web-Based Clocking in System
Record working time, breaks and absences in seconds
Easy to install and operate
Efficiently manage data via PC and Mac
No additional setup required
Via RFID/NFC key fob/card or optional via fingerprint
Time recording on PC, Mac or Smartphone
Individually configurable and ready to use
Time stamps saved locally in case of network failure
Control settings directly on the clocking in device
Manage Time on Your Browser
Perfectly combine clocking in machines with our software and simplify time tracking in your company.
Our clocking in machines are ideal for office-based employees. They are intuitive and simple to use and offer multiple time registration options. Track working hours and breaks directly on the clocking in machine or manage and keep an overview of working hours. The software automatically calculates all the tracked data on the basis of your presettings. The data tracked can easily be accessed by you or your employees via web-browser which allows you to easily keep an overview of target or actual working hours, overtime, shortfall of hours and leave days.
Track Time via RFID Technology
Easily and quickly record working hours and breaks contactless via NFC key fob or card.
Track time with RFID/NFC key fob or card. The RFID key fobs are assigned to every employee beforehand. Employees choose between arrival, break, departure or other absences and contact the RFID tag on the RFID/NFC reader. The clocking in machines send the recorded data in real time via wireless network to the time tracking software.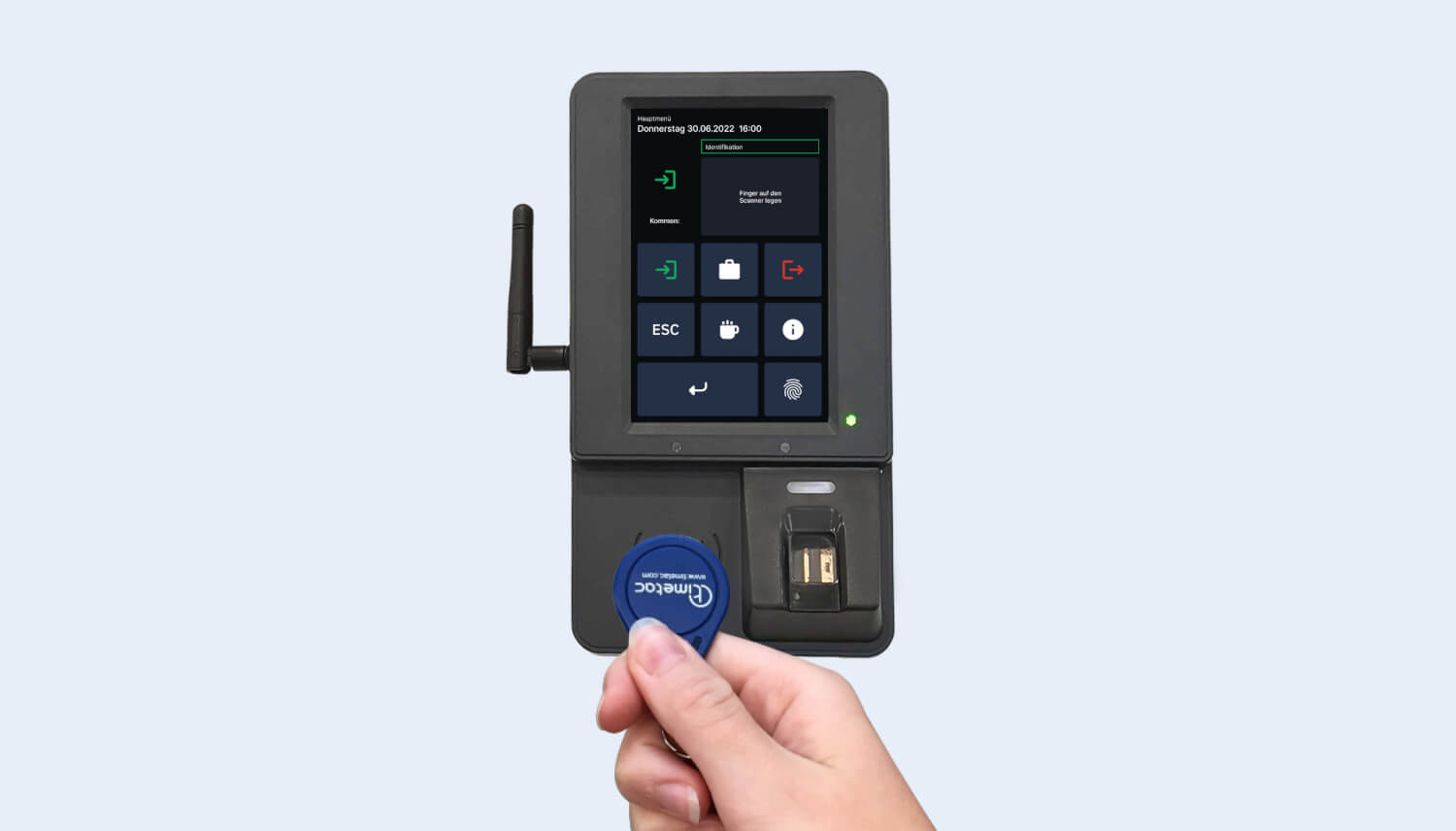 Time tracking on the clocking in machine via key fob
From Startup to Enterprise!
Manage employees in multiple locations and easily deal with country specific regulations. We can cover all your requirements no matter how complex they are.
Get in Touch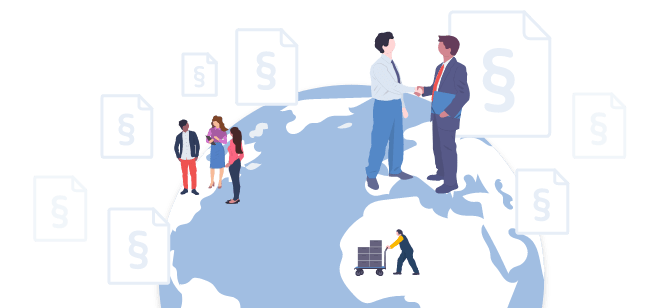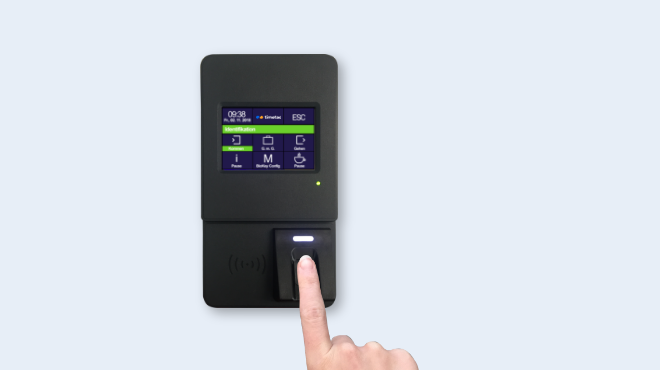 Time tracking via Fingerprint
Clock in Securely via Fingerprint
Easily track employee time and attendance with our clocking in machines via fingerprint.
Clocking in and out is much faster for employees and saves companies time and money by paying employees for the exact time they work. Employees choose between arrival, break, departure or any type of pre-defined absence on the clocking in device and hold their finger on the fingerprint sensor to start tracking their time. The clocking in machine recognizes the unique characteristics of a fingerprint and links it to an employee. Thus, you eliminate buddy punching. To protect employee data when using biometric time tracking, only specific characteristics are saved, no fingerprints.
Time Recording with RFID/NFC Key Fob/Card or Fingerprint
TimeTac offers the perfect solution for your company.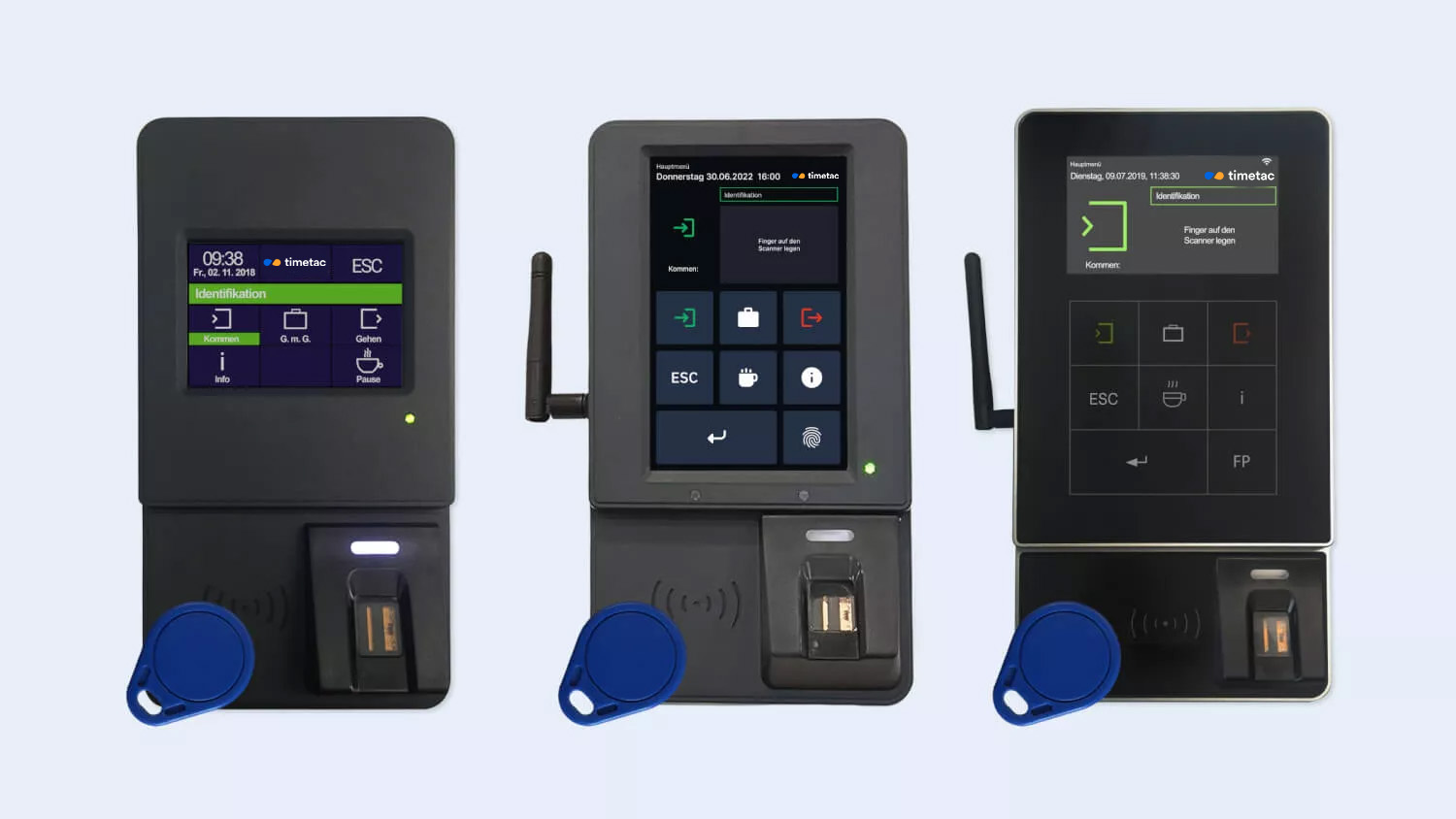 TimeTac Clocking in Machines Evo Basic, Evo Smart and Evo Advanced
Track Time in the Best Way
Combine multiple forms of identification to track employee time and attendance.
Our clocking in machines offer various forms of identification for example with a key chain or card via RFID/NFC up to identification via fingerprint. Those options can be combined on a single clocking in machine and therefore offer maximum flexibility. All our offered Evo clocking in machine models are combined with the Employee Time Tracking Software and can be managed via PC or Mac.
Save Costs by Using Your Existing Hardware Devices
Track and manage working hours on one central device via multi-user access.
Use any desired and existing hardware e.g. computer or tablet and combine those with TimeTac's multi-user access to save time and additional costs. Employees are not only able to track time via this terminal but also access and view their tracked time. Employees can also register time directly for tasks and projects or quickly request leave days. Users can easily log in via entering a pincode.
GDPR Compliant, Secure and Protected
TimeTac offers GDPR compliant time recording and has been awarded the title of "Certified Cloud" provider.
More on Security and Data Protection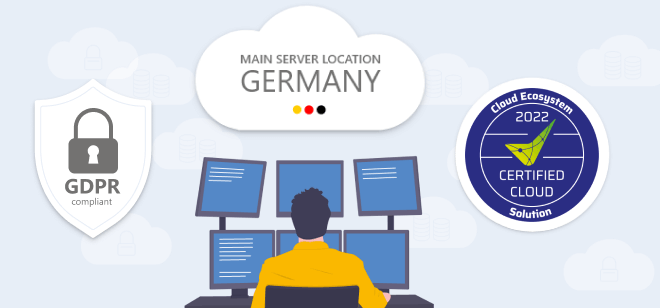 Convenient Time Tracking with Clocking In Machines
Evo Basic
Time Clock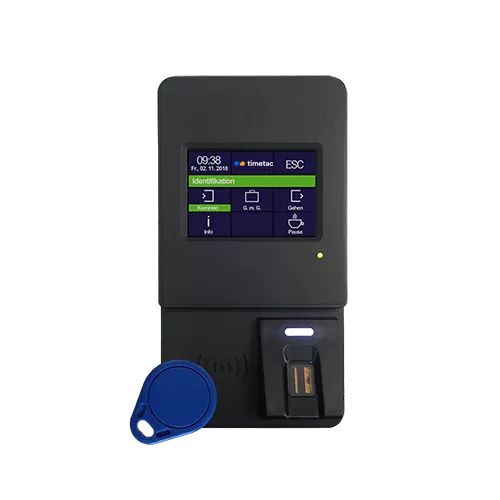 Standard clocking in machine for Employee Time Tracking via RFID or Fingerprint with a 3.5-Inch-Touchscreen.
---
Touchscreen: 3.5 Inch
---
Tracking: via RFID or RFID + Fingerprint
---
Power Supply: AC
---
Prices: from € 29.90 monthly*
Evo Smart
Time Clock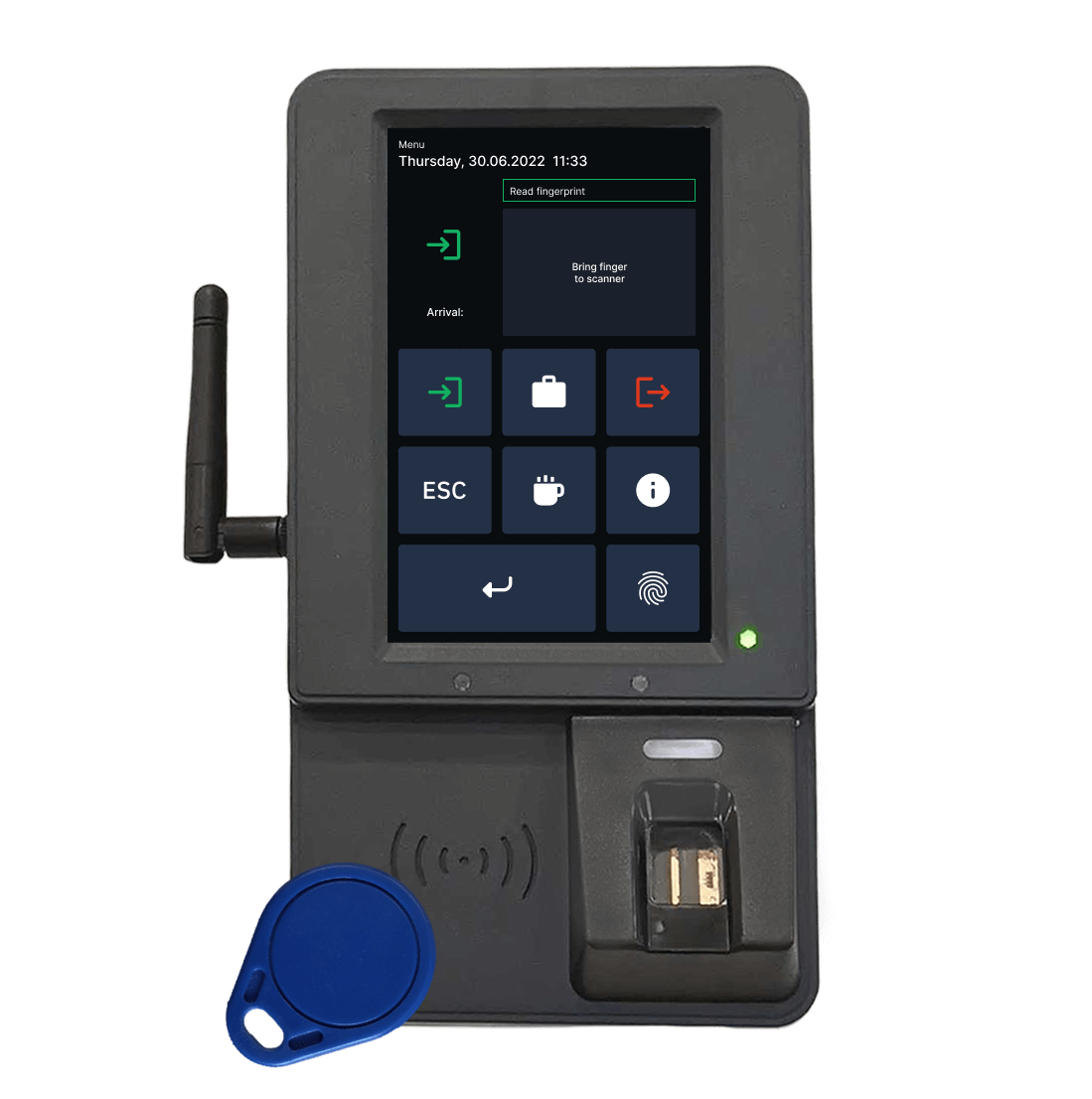 As robust as the Evo Basic but also impresses with its 5-inch display and easy-to-understand operation.
---
Touchscreen: 5.0 Inch
---
Tracking: via RFID or RFID + Fingerprint
---
Power Supply: AC
---
Prices: from € 34.90 monthly*
Evo Advanced
Time Clock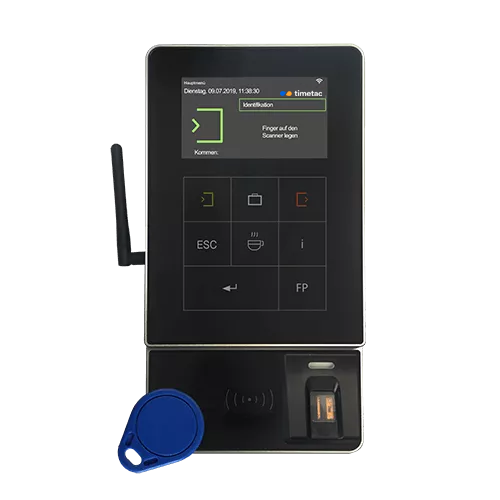 High-end clocking in machine with a 4.3-Inch-Display and individual options of layout and organization of buttons.
---
Touchscreen: 4.3 Inch
---
Tracking: via RFID or RFID + Fingerprint
---
Power Supply: AC
---
Prices: from € 49.90 monthly*
Benefit From Numerous Features and Advantages of Our Software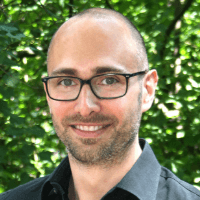 Michael Mayer
Head of Human Resources, WWF
"After in-depth market research and extensive testing with other providers, we – as a nearly 100-member NGO – found a solution in TimeTac that offered us the best combination of functionality, intuitive operation, competence, locally based service, and costs."
Free Trial
Fill out this short form and receive your free trial account.
30 day free trial, with no obligation
Data from the trial phase can be kept if you decide to purchase
No credit card required for the trial
No need to worry: your trial account will automatically expire
Data protection: your data will not be passed to third-parties