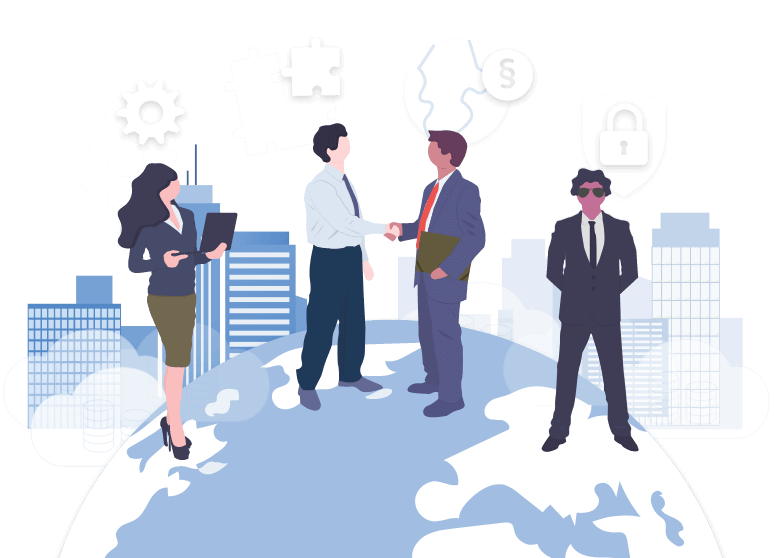 Time Tracking for Large Enterprises
Individual Solutions for Your Requirements
Tailor-made: Specific configuration and customization
Integration into existing systems via interfaces
International: Multilingual and mapping of country-specific regulations
Secure: GDPR compliant, data centers in the EU
30 Days Free Trial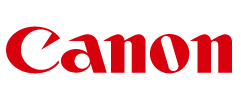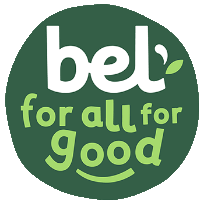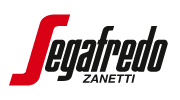 Time Tracking Solutions for Large Enterprises
---
We Map Your Complex Requirements in the Time Tracking System
Customization of standard modules
Configuration on employee level
Verification of international legal and other framework conditions
Numerous reports with export functions
Workflows for absence and time tracking approvals
Multilingualism and country-specific regulations
Solutions for all common industries and application areas
Extensive role and authorization concepts
Automatic system notifications to reduce the workload of your employees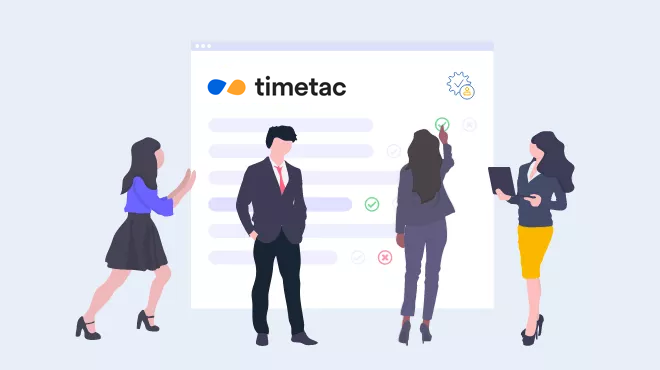 Customize TimeTac to Your Business Needs
Tailor TimeTac precisely to your requirements with just a few settings and configurations.
Our modules for Employee Time Tracking, Project Time Tracking, and Leave Management are already preconfigured by default and can easily be adapted to your requirements through settings. If you have special requirements for existing system functions in TimeTac or need individual time tracking evaluations, we can solve this with simple configurations. TimeTac can also be perfectly synchronized with your existing processes so that you can smoothly merge data between TimeTac and other programs.
Integrate TimeTac into Your Existing System Landscape
Integrate TimeTac with your existing programs via standard interfaces and APIs.
TimeTac offers extensive possibilities for direct integration into your existing system landscape. With our interfaces, you can seamlessly integrate data from TimeTac with other systems in your company, such as ERP, CRM, project management, payroll accounting, or user management. In this way, TimeTac fits perfectly into your existing infrastructure and becomes the ideal partner for project and personnel management, accounting, and controlling.
More about Integration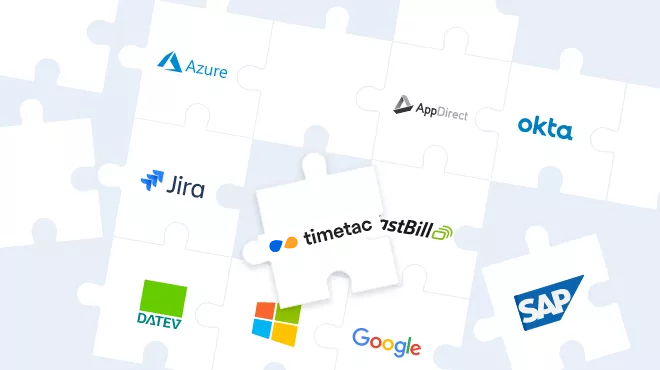 Finding the Perfect Solution Together
We support you from the initial consultation to the successful introduction of your enterprise solution. We are also happy to take over the entire configuration for you and train your employees.
More about our Services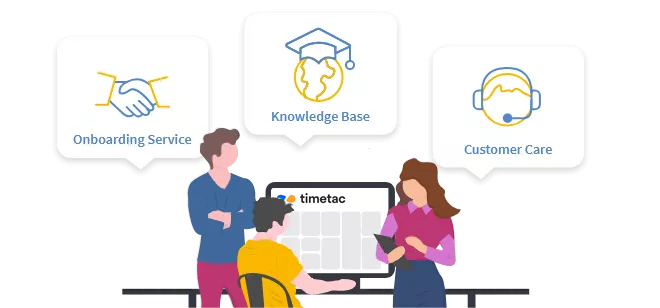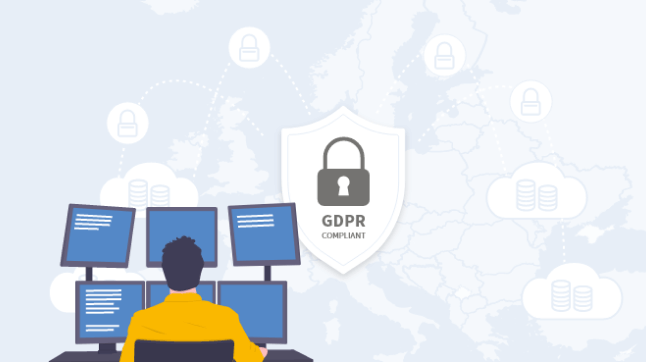 We Ensure the Protection and Security of Your Data
Full GDPR compliance, certified server locations, and high-security measures protect your data.
For us, the protection of your data is an absolute priority. We strictly adhere to the rules of the applicable data protection laws. The operation of TimeTac takes place in certified and reliable data centers at various locations in the EU, with the primary server location in Germany. Your data in its entirety is backed up automatically on a daily basis. In the event of an error, live replications are available to take over operations immediately. Thus, your information is protected against data loss, and the best possible data security is guaranteed.
More on Security and Data Protection
Work across Countries and Locations with One System
Use a central time tracking system throughout your entire company with TimeTac.
With TimeTac, you use a uniform time tracking system for different locations, even in other countries, and have a central overview of all subsidiaries. TimeTac is web-based and therefore available to you and your employees worldwide and at any time of the day. The software is translated into many languages and can therefore be used optimally by your international employees. TimeTac is ideally suited for international or cross-border use.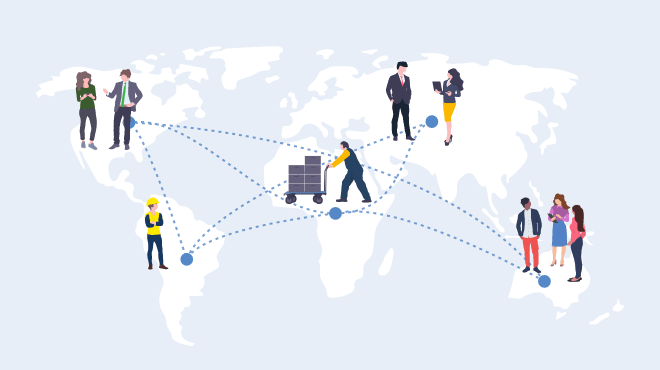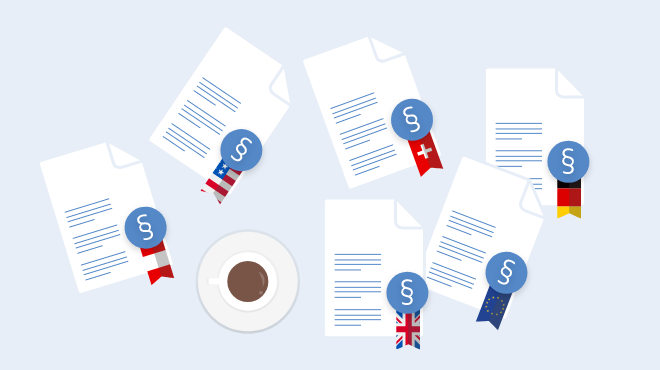 Comply with International Requirements Safely, without Worries
Ensure that you safely meet all the legal and country-specific requirements with TimeTac.
With TimeTac, you can safely map all country-specific requirements. This way, you can be sure of complying with international working time laws and regulations and provide clear evidence of these when they are checked. TimeTac provides you with various holiday calendars as templates for the entire EU region and many other countries. With these calendars, you automatically take public holidays into account when calculating hours for your locations in different countries.
Track Time Anytime, Anywhere, from Any Device
Beneficial Features of Our Time Tracking Software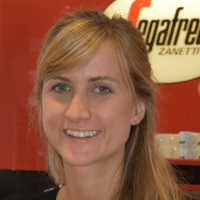 Sarah Aichinger
HR Manager CEE, Segafredo
"Before placing an order, providers promise you a lot - great support, smooth onboarding, complete cost transparency, and simplicity. But with TimeTac, that's all genuinely the case. We were online super fast and without complications. The support is simply outstanding! Time tracking and leave management - easier than ever."
Free Trial
Fill out this short form and receive your free trial account.
30 day free trial, with no obligation
Data from the trial phase can be kept if you decide to purchase
No credit card required for the trial
No need to worry: your trial account will automatically expire
Data protection: your data will not be passed to third-parties