Provider:
Microsoft
Categorie:
Identity & Access
Application:
Azure Identity Provider
Microsoft Azure as Identity Provider for Single Sign-On (SSO)
Unified Identity and Access Management
Single-Sign-On (SSO) allows you to authenticate to different services and programs only once. TimeTac connects to any SAML 2.0 compliant identity provider (IdP).
Your Benefits at a Glance
Access to all services with a single set of credentials
No more worrying about the security of passwords in the company
You do not have to log into different systems individually, which saves time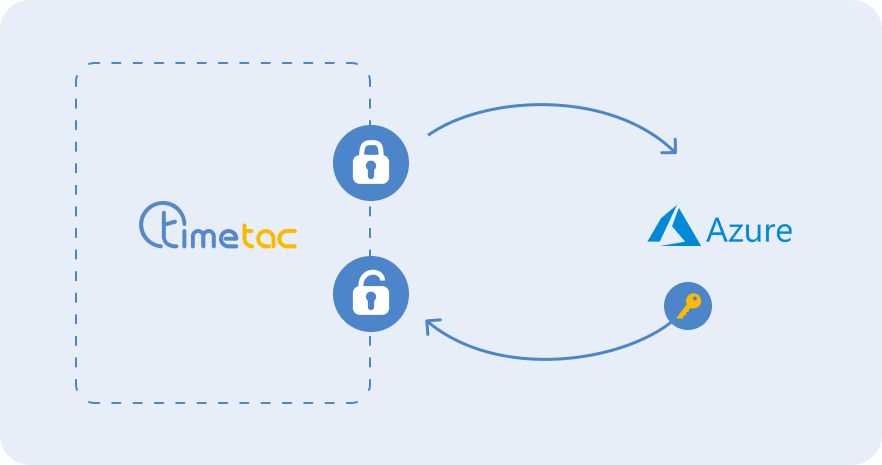 This Way You Can Configure SSO for Your TimeTac Account
To be able to set up SSO for TimeTac, you need an Azure account with one of the following permissions/roles as a prerequisite: global administrator, cloud application administrator, application administrator, or owner-of-the-service principal.
Perform the SSO configuration in your Azure account. For more information, see our step-by-step tutorial.

Log in to your TimeTac account.

Click "Settings" in the menu and select "Account settings".

Go to "SSO Configuration" and start configuring TimeTac as SSO service provider: fill in your service provider details.

After you complete the configuration, SSO is enabled as the login method for your TimeTac account.

Test the SSO login by logging out with your TimeTac User and logging in again using SSO.
About Azure
Microsoft Azure is the cloud computing platform from Microsoft. It offers services in the categories of computing, storage, appfabric, virtual network and content delivery network (CDN). The most popular functionalities include the provision of web apps, virtual machines, storage and Azure Active Directory. Azure Active Directory stands behind all of these services as the central user and group management. By integrating identity and access management, you have the ability to offer on-premises and cloud applications that users can authenticate to using your organization's credentials.
Conveniently Log in to TimeTac with SSO
Log in to TimeTac and all your programs with the same credentials and save time.
Log in to TimeTac and all your programs with the same credentials and save time.