New version of TimeTac Desktop for Windows available
By Magdalena Fladl, 01.07.2020, Approx. 8 min reading time.
The new version of the TimeTac Desktop App: We have improved the stability and usability and added some interesting features to the TimeTac Desktop. With the TimeTac Desktop, you can quickly track and manage working hours and project time as well as leave days and other absences without being disturbed while working on the screen. This app runs in the background and allows you to quickly track your time, even offline.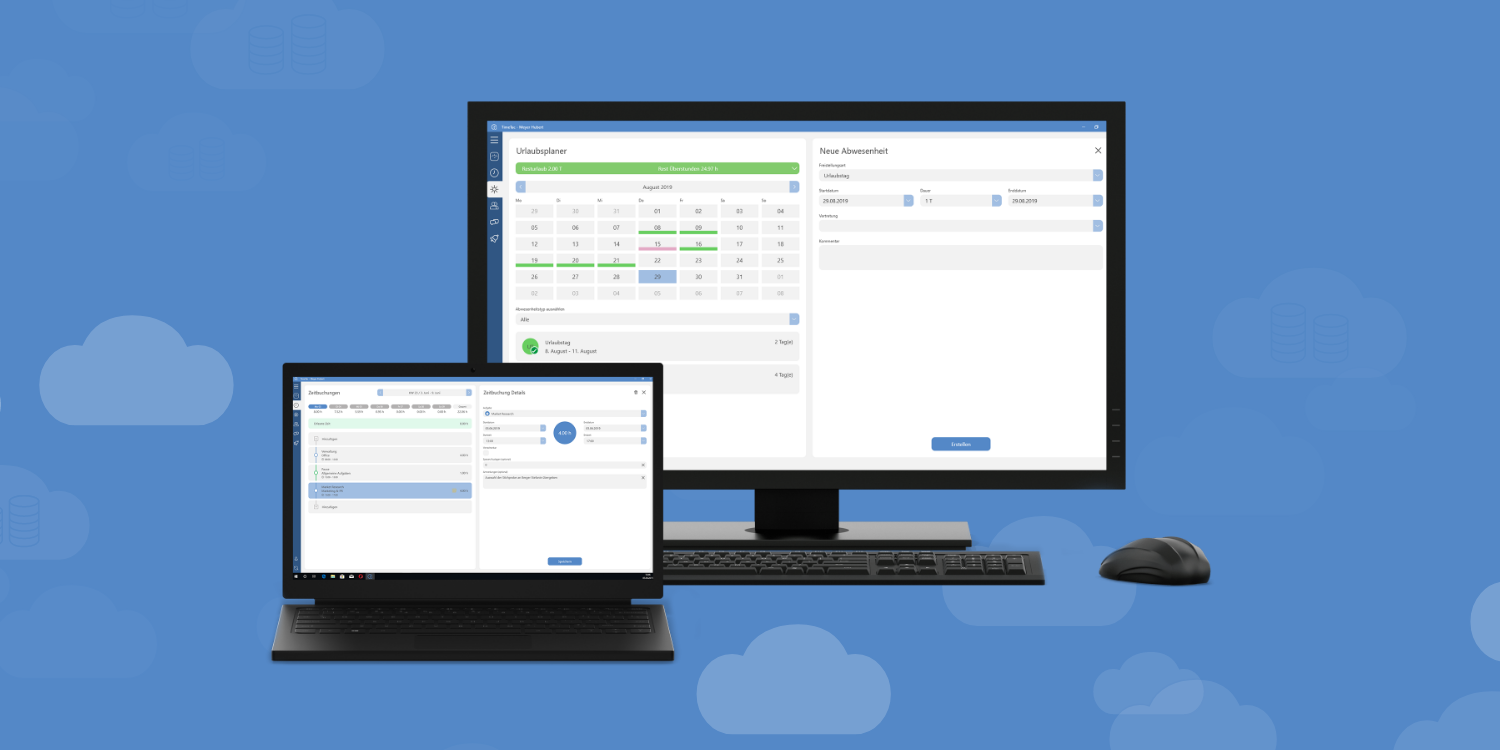 The new features of our TimeTac Desktop for Windows
The new version of TimeTac Desktop has not only improved stability and quality but the app has also been functionally enhanced and got a new dashboard which gives you a quick overview of important information right when you start TimeTac and offers a live start of time tracking. The status overview has been developed further and you can now have tasks start automatically if required. In addition, TimeTac now notifies you for example when your employees are absent.
NEW: The Dashboard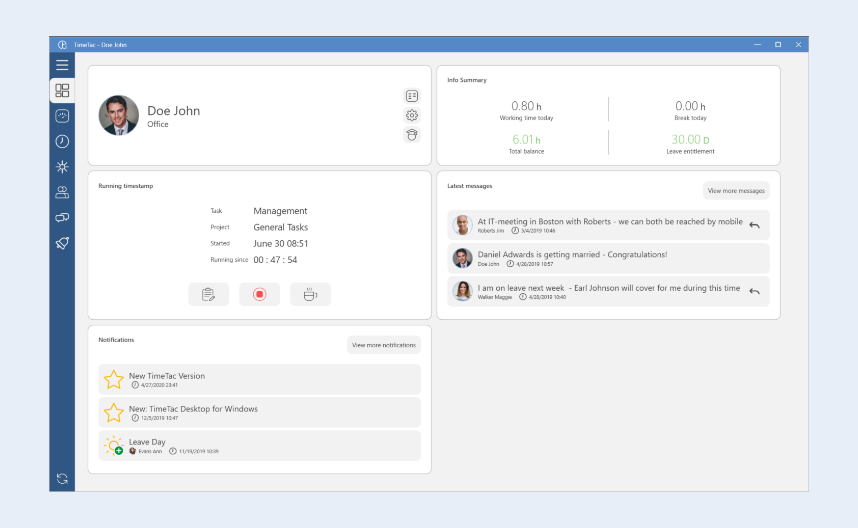 Get information about the status of working hours and leave days, view current news and notifications and optionally start live time tracking directly on the dashboard. Design the dashboard according to your needs. The widgets of the functions can be arranged individually.
Status overview: Live time tracking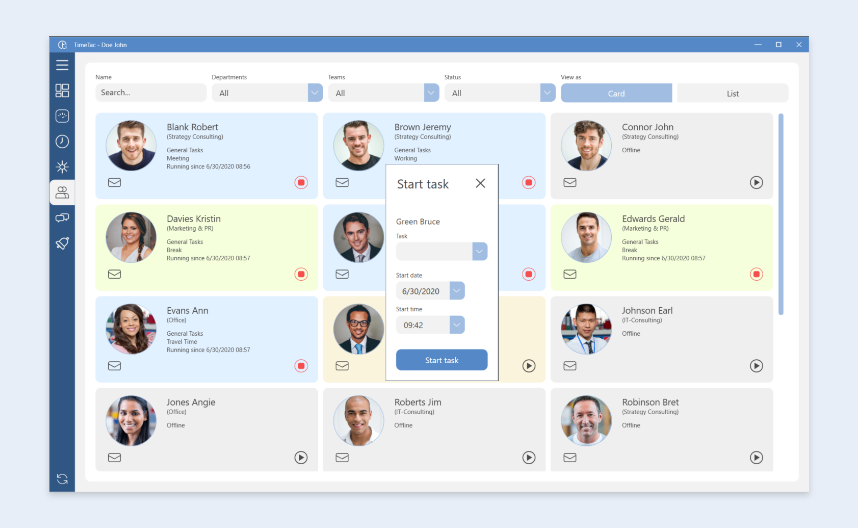 Get an overview of the status of your employees: The background color of the respective employee's card allows you to quickly see whether your employee is present or absent as well as which task they are currently working on. As a manager, you can select the view by employees or departments and start or stop tasks for selected employees.
An overview of our TimeTac Desktop for Windows
The TimeTac Desktop is a so-called "System Tray App" that permanently runs in the background without disturbing you while working. Quickly and without having to open the browser you can manage employee working hours and project hours as well as leave days and other absences.
Quickly track time, without a browser
Clear overview: simple interface
Simple time tracking: start, stop and easily switch between tasks
offline-capability: Data will be synchronized once the connection is restored
Automatic Update: The app updates itself automatically
The most important functions
Live time tracking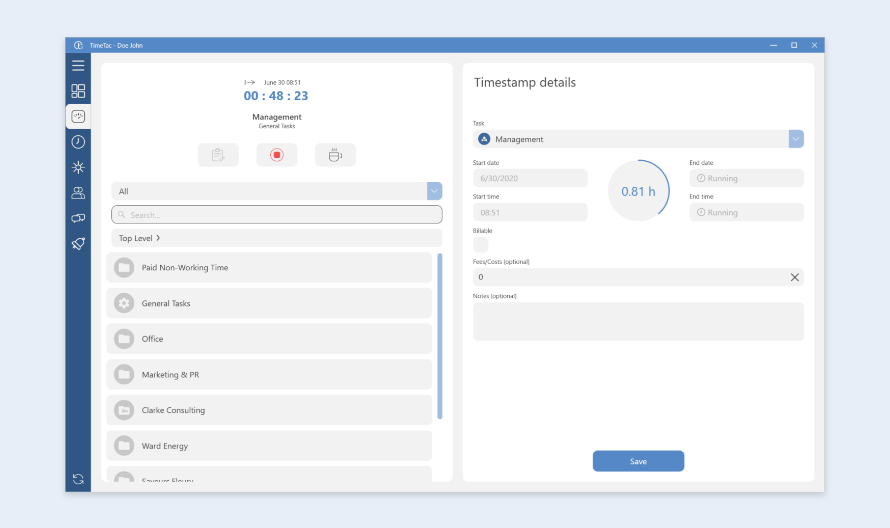 Start, stop, or pause time tracking by clicking on the respective icon or add a note to your timestamp. Select or search for tasks and view all details of a timestamp.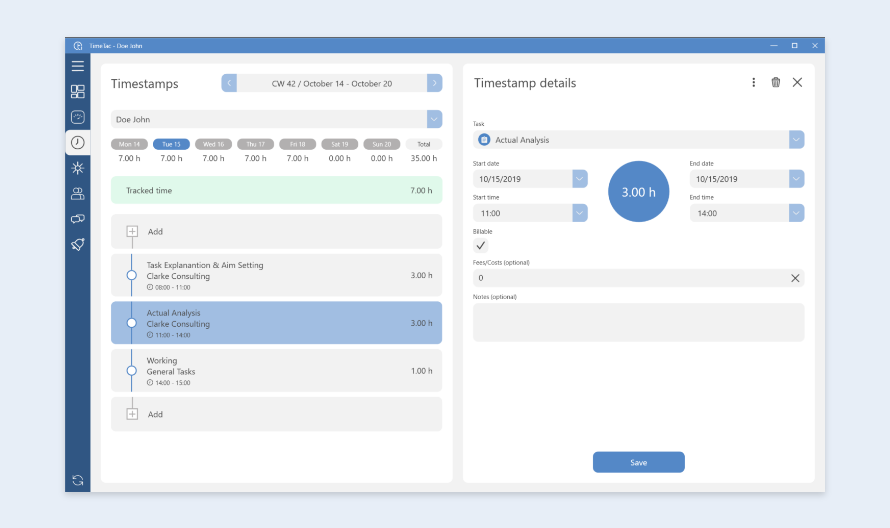 All timestamps are displayed clearly and can be viewed in detail.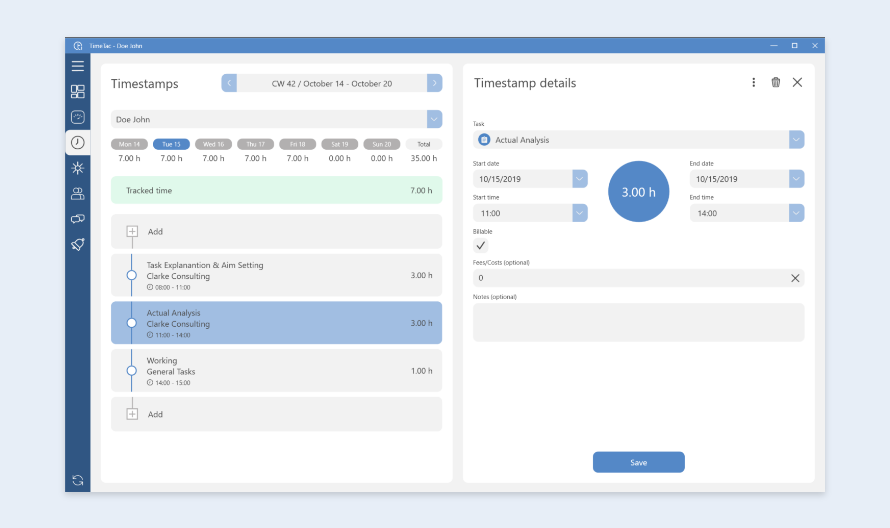 Keep an overview and get a detailed insight into your employees' timestamps.
Leave Management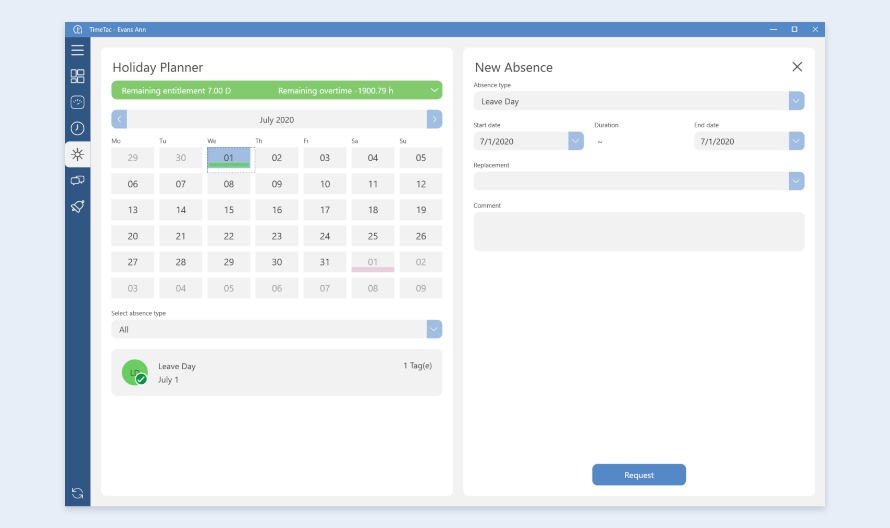 Get an overview of approved and requested leave days within the Leave Management and Holiday Planner. You can view the current holiday entitlement as well as the status of the overtime balance. Click on the calendar to request absence days.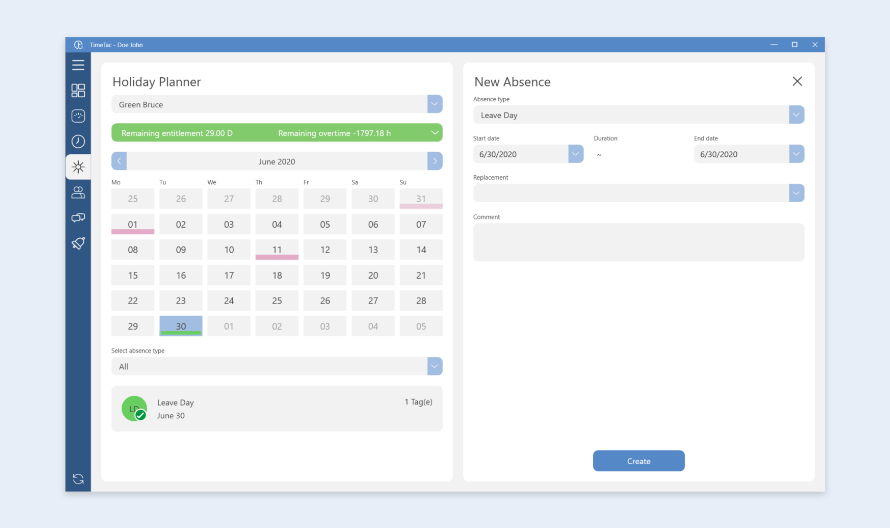 As a manager, you get an overview of requested and approved leave days as well as the status of your employees' holiday entitlement and the current overtime balance.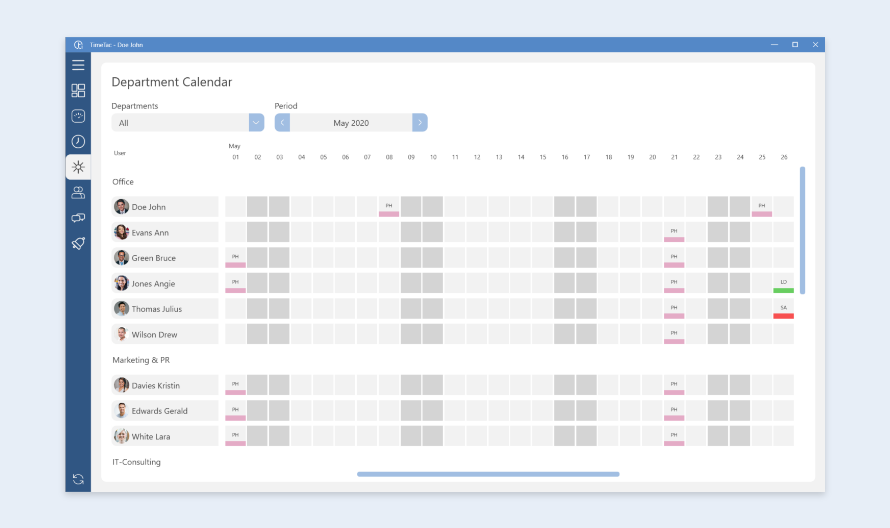 The holiday calendar offers you a clear overview of the absences of a team or department and allows you to look and plan ahead of time.
Status overview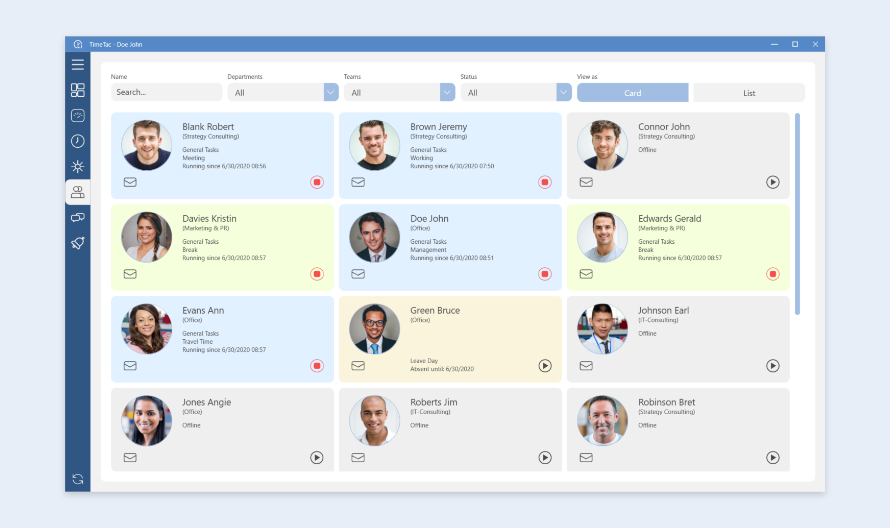 Get a quick overview of your employees' attendance and absences.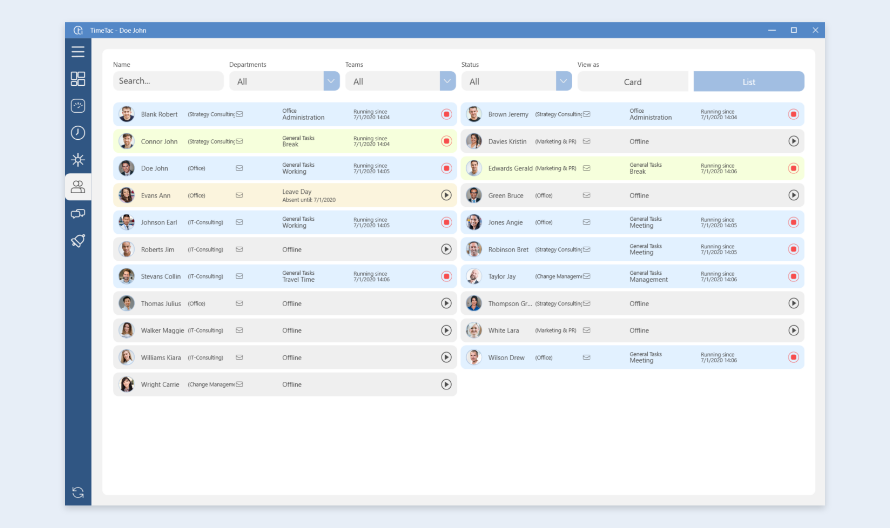 Viewing the status as a list gives you a better overview of the attendance and absence of numerous employees.
You want the new version of our TimeTac Desktop?
For customers
If you are already a TimeTac customer you can now also use the TimeTac desktop on your Windows PC. Simply download the app for free, enter the login data of your TimeTac account, and start time tracking.
You are not a customer yet?
If you are not yet a TimeTac customer you can of course still test the app: Simply create a free TimeTac test account with the desired modules. Then download the app for free via the link, log in with your test account access data and try out the app immediately.
A simple introduction to the app
Look through the updated user manual or contact our support team if you have any questions or uncertainties: support@timetac.com.
Download TimeTac Desktop
Download User Manual