Provider:
JumpCloud
Category:
Identity & Access
Application:
JumpCloud
Single-Sign-On (SSO) with JumpCloud
SSO - One Identity for Secure Access to All Applications
Single sign-on allows you to log in and thus access multiple applications and services with a single combination of credentials. To configure SSO for TimeTac, you need a SAML 2.0-compliant identity provider (Idp), such as JumpCloud.
Your Benefits at a Glance
Access multiple applications and services with a single set of credentials
Better user experience and higher satisfaction for employees
Higher data security
Reduce the amount of passwords to all required apps and services
Reduced effort and costs in user administration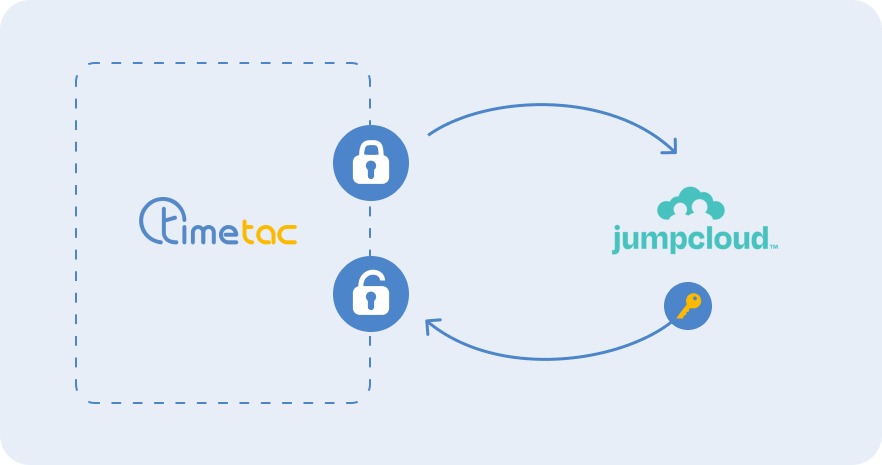 This Is What We Need from You for the Configuration
To set up SSO for TimeTac, you need a JumpCloud account with one of the following permissions/roles as a prerequisite: global administrator, cloud application administrator, application administrator, or owner-of-the-service principal.
Perform the SSO configuration in your JumpCloud account.

Log in to your TimeTac account.

Click "Settings" in the menu and select "Account settings".

Go to "SSO Configuration" and start configuring TimeTac as SSO service provider: fill in the service provider details provided by your identity provider.

After you complete the configuration, SSO is enabled as the login method for your TimeTac account.

Test the SSO login by logging out with your TimeTac User and logging in again using SSO.
About JumpCloud
JumpCloud is a Directory-as-a-Service platform that provides enterprise users with secure management and connection to their systems, applications, files, and networks. This is enabled by a single set of credentials - regardless of platform, provider, protocol, or location. Users gain access to cloud and on-premises platforms such as Office 365, G Suite, Salesforce, AWS and Jira. They can connect to file shares and networks via Samba and RADIUS to secure the organization's WLAN and file server.
With tools to centralize and simplify identity management, JumpCloud lets you manage multiple systems regardless of location from a single browser-based administration console. With systems management capabilities, you ensure that the various workstations, laptops, and servers within the environment are uniformly controlled and compliant through a complete set of security tools. You can provision user access across all system endpoints, manage permission settings, and deploy secure password policies.
You can integrate your WLAN and VPN devices using JumpCloud's RADIUS-as-a-Service to provide an additional method for authenticating users between services and clients. With the platform's SAML 2.0 and LDAP-based single sign-on protocols, users can streamline authorization and authentication for web and local applications, including IT resources such as phone directories and printers. Group-based access controls can be assigned to specific groups of people. Administrators can add or remove user access with a single click.
Safely and Conveniently Start All Services
Give your employees secure and convenient access to all your services and programs.
Give your employees secure and convenient access to all your services and programs.