Productivity on the Move: "The Move" itself
by Andrew O'Connell, 06.10.2015
Working on the move in the truest sense of the word: working in a form of transport! The bad news: it's not always comfortable or easy. The good news: With our tips, you can work efficiently on a train, on a plane or in the car with ease! Everything that you need for your business […]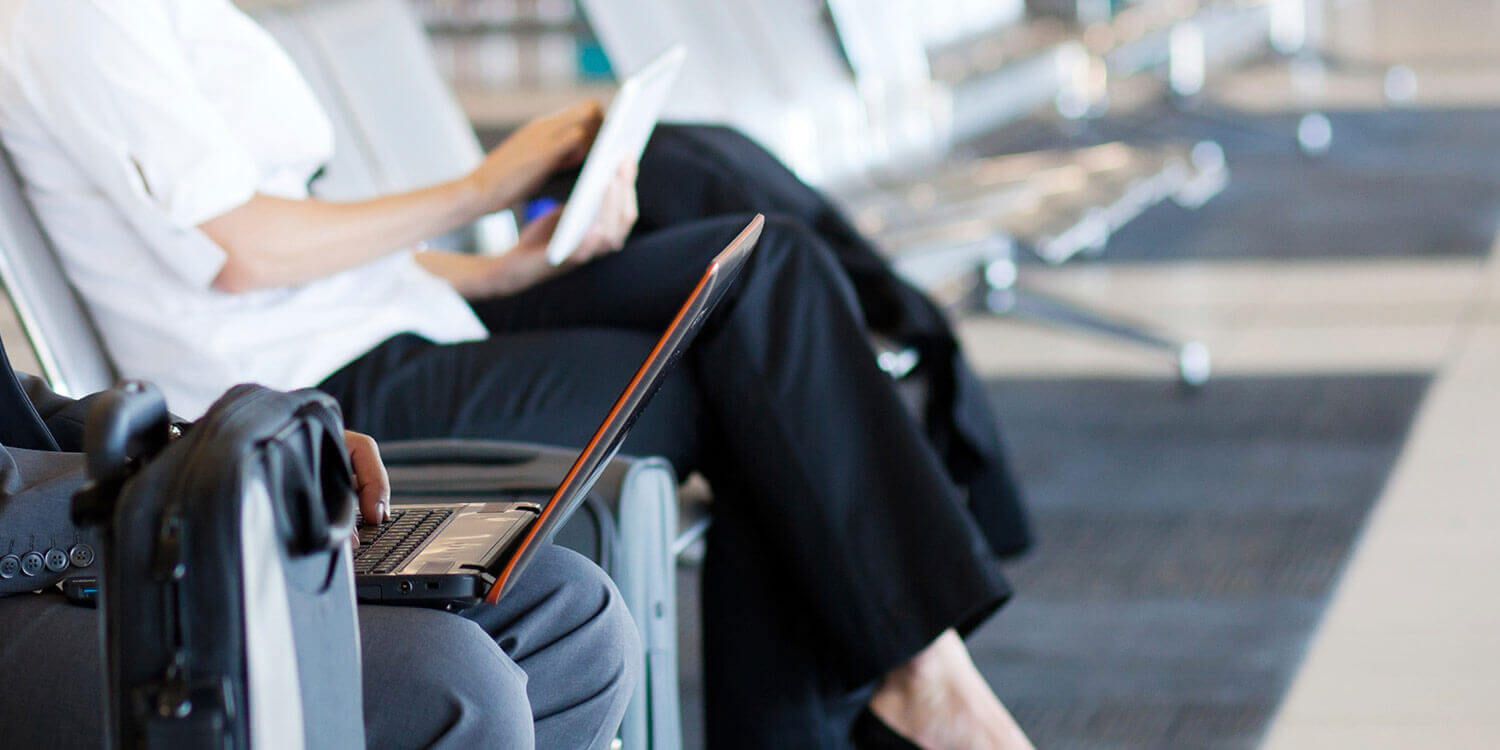 Working on the move in the truest sense of the word: working in a form of transport! The bad news: it's not always comfortable or easy. The good news: With our tips, you can work efficiently on a train, on a plane or in the car with ease! Everything that you need for your business travels is here: our tips from part 1 and our tailor-made productivity tips for working on board!
On the Train
The majority of trains offer business travelers an excellent working environment: peace and quiet, electrical supply and sufficient room for your devices and documents; as long as you are in first-class. Provided that the journey doesn't take you through the middle of "nowheres-ville," a stable internet connection and reliable mobile phone reception can usually be expected. To get the best of your business travel on the train:
Choose a window seat: window seats offer a more private working environment and are usually quieter than those beside the aisle.
Constrain telephone conversations to an absolute minimum: a lot of ears are listening, particularly when you are in an open plan carriage. It's not just a case of irritating your fellow passengers, but the possibility is always there of letting confidential information slip away.
In the Car
Working in the car is becoming ever more popular: lots of business travelers are using the time to telephone, keep up-to-date with e-mails and documents, analysis of data and more. Car manufacturers are reacting to this trend with features such as integrated LTE-Hotspots and other office functions for the dashboard: passengers can comfortably surf the internet and send e-mails, even with large attachments. Innovations such as BMW Connected Drive ensure that even drivers can receive information in a similar, yet safe manner. The practical system can read e-mails, tasks and calendar entries for starters! To be the most productive in the car:
Create a work place: cars are rarely created for working in. If you don't have the pleasure of being driven to work in a limousine on a daily basis, you firstly need to create a working environment. Documents and devices should be well accommodated, so that the next time you press that brake pedal hard, everything doesn't fly towards the windscreen as if gravity had just been switched off. As well as specialist holding devices and writing desks with nonslip surfaces, there are also anti-slip mats for conventional car tray tables, making sure your laptop and your documents remain in place.
Safety first: when you're personally behind the wheel, we shouldn't have to tell you that you leave your work alone. Safety on the road is paramount. Do you want to use the time whilst driving to telephone? Beware of your concentration levels and in every instance, use a hands-free kit.
In the Air
Above the clouds, productivity can be virtually limitless – as long as you're prepared. In most instances, aeroplanes offer a comfortable, peaceful atmosphere, even in economy. Therefore, to make sure you use this time effectively, here are a few tips for your business travel.
How you sit is how you work: before reserving that seat, inform yourself of the layout of the aeroplane and the individual seat plans. SeatGuru discloses easily and quickly the seats on board your aeroplane with a power socket. The worldwide standard is the EmPower socket, which you can usually find behind a cover on the armrest.
Utilize take-off and landing: the majority of us carry out our business travel tasks on a laptop. The downside: electronic devices are usually required to be switched off during take-off and landing. For these circumstances, make sure you have a notebook, pens, highlighters and sufficient reading material.
Efficiency without connection: WLAN is still expensive and a rarity on board an aeroplane. An idea for business travel in the air is to create yourself an "offline packet." A good selection could be fact sheets, printed reports, presentations and other documents. If you want to read e-mails while on the move, make sure you have offline access to your e-mail account.
Respect the rules of the game: normally the use of mobile phones is not permitted during flight. Most phones have flight modes in which neither WLAN nor UMTS/GSM are active. You can therefore use your smartphone to listen to music or watch videos. With laptops however, you should deactivate your wireless card prior to the previous shutdown: this will prevent the wireless card from automatically powering on during start up. If you desperately need to telephone while on board, it is becoming more possible with certain airlines and aeroplanes – mostly with a considerable charge.
How productive are you on your business travels? What tips do you have for working on the move?