TimeTac's Founder and CEO in a GoodFirms' Interview Series
by Gabriele Kaier, 04.08.2022
Bernd Pichlbauer, the Founder and CEO of TimeTac, shares in his interview with GoodFirms how they created this world-class time tracking software to meet the compendious needs of various industries and businesses with its extensive features, attractive interface, innovative design, and consumption-based pricing.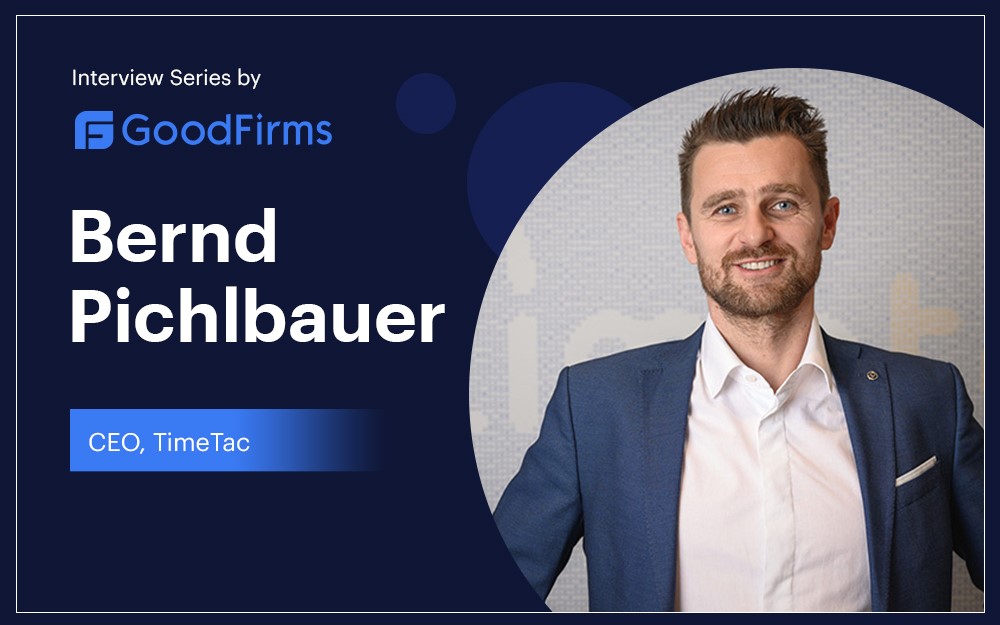 Interview of GoodFirms with the Founder and CEO of TimeTac
"Helping companies around the globe easily and effortlessly record working time and enhancing their operational efficiency."
Based in Graz, Austria, TimeTac is a cloud-based time tracking software designed to meet the all-embracing time and expense tracking needs of businesses of all sizes. The software caters to a broad range of industries, including medical practices, governmental organizations, IT companies, cleaning services, agencies, construction sites, and many more. The TimeTac system enables transparent request-approval processes for the management and human resources personnel. It helps businesses streamline and control time tracking and related operations on a unified platform.

The software offers time tracking features like alerts/notifications, booking management, employee database, offline time tracking, timesheet management, vacation/leave tracking, and reporting & analytics. It further offers time and expense tracking features, including activity tracking, billing & invoicing, expense tracking, project tracking, operations management, resource planning, workflow & approvals, and more. The software allows businesses hassle-free implementation of remote and hybrid working models. Further, TimeTac offers a flexible API and seamless integrations to various software solutions.
Our goal is to upraise TimeTac as the number one internationally recognized time tracking software, helping more and more companies around the globe to easily and effortlessly record working time, and enhancing their operational efficiency with our ingenious features, amazing functionality, and multi-industry utility, Bernd quotes.
The company offers a flexible, subscription-based pricing model for the TimeTac cloud platform with multiple plans that customers can choose from based on their needs and budget. Moreover, the pricing model allows for comprehensive use-based customization of features and offerings of TimeTac that reduces overall costs for the customers. GoodFirms interviewed and discussed the detailed offerings of TimeTac software directly with Bernd Pichlbauer, Chief Executive Officer (CEO) of TimeTac, to learn more about the software.
Versatile Time Tracking Software
Initiating the interview, Bernd describes TimeTac as an employee work time tracking, project time tracking, and leave management software for medium-sized and large companies. It is designed to help businesses improve the work environment and make administrative processes more efficient. It eliminates conventional paper timesheets and helps record working hours more precisely and accurately.

On being questioned about what motivated the company to create TimeTac, Bernd explained that they originally created the software for their internal use. He adds that he and his two friends were running a trading company, for which he needed to travel a lot. To create transparency concerning working hours among the shareholders, they needed a reliable time tracking solution. However, they could not find anything suitable in the market to cover all their needs. Moreover, they themselves had strong developer skills. This motivated them to create TimeTac time tracking software.
Distinctive Features and Offerings
Further, in the interview, discussing the unique features and offerings of TimeTac, Bernd elaborates that TimeTac is highly flexible yet easy-to-use software. It is customizable for the specific needs and regulations of various businesses. Apart from offering live work time tracking features, the software also allows recording time and accessing the timesheets offline, ensuring data accuracy and safety. Bernd further adds that another distinctive offering of TimeTac, which their customers appreciate, is the exceptional price-performance ratio of the product combined with the company's outstanding services and support.

Talking about the value addition that TimeTac offers to its customers compared to other products in the market, Bernd explains that the software provides a flexible and easily customizable modular system that enables easy adaptation and personalization of the product as per the specific needs of any organization. Moreover, TimeTac is a cloud-based platform that can be accessed from any browser or mobile device. It allows employees to quickly and easily clock in, clock out, track project time, check their leaves, and more. According to Bernd, the software reduces the HR department's workload, enabling effortless data export in any payroll or accounting software. The company follows a flexible and supportive business approach for the customers, diligently helping their customers set up custom integrations with their existing tools to streamline their operations.
Customer Satisfaction and Retention
Talking about customer satisfaction, Bernd claims that they have around 3000 existing customers, high ratings, and great reviews on various platforms, proving that their customers are very satisfied with TimeTac. The customers are happy with the software features and the services provided, and thus they typically continue with the product for a significant time. Bernd further adds that the company constantly maintains and improves the software and mobile app to offer the best customer experience. They value customers' inputs a lot and promptly respond to their issues.

For customer retention, Bernd gladly affirms that most of their customers are long-lasting and grow together with TimeTac.
Dedicated Customer Support
Bernd explains that the company offers an onboarding service for TimeTac users and has a highly-rated support team promptly available to help the customers. Besides, the customers can contact the support team through email or phone from the software setup as needed. The company offers customer support in both English and German languages.

The company further provides resources to help its customers get acquainted with TimeTac, including a Knowledge Base for TimeTac, a FAQ page, and free webinars for users. Bernd informs that they also maintain a blog in English and German languages and a regular newsletter with updates and trending topics in the industry.
TimeTac – The Best Time Tracking Software
As founder and CEO, I am beyond proud of what we have achieved in the past years. Together with an amazing team, we try to make our product better every day, says Bernd.
TimeTac serves more than 3000 customers with over 100,000 daily users and is the leading time tracking company in Germany, Austria, and Switzerland. With the mobility, best-in-class features, and noteworthy value addition that TimeTac offers at nominal costs, the company aims to establish TimeTac as a popular choice and market leader for businesses looking for the most reliable time tracking software worldwide. GoodFirms researchers have identified TimeTac as one of the best time tracking software for its versatile offerings, user-friendly interface, multi-industry utility, and flexible yet reasonable pricing. To know more about the offerings of TimeTac, one can also go through the detailed interview published at GoodFirms.
About GoodFirms
GoodFirms is a Washington DC-based research and review platform for software and services. GoodFirms empowers companies to choose the best software from its curated list of industry-leading software in various categories to enhance profits and grow beyond imagination. It performs extensive research and analysis to evaluate and rank the listed software on critical parameters like features, uniqueness, ratings, and verified user reviews. This diligently curated ranking highlights the top performers for every software category and boosts the buying credibility of the software.
About the Author
Lisa Brian is presently working as a Content Writer with GoodFirms, a Washington-based B2B research company well-known for its research methodology and listings of 60k+ software and services. Lisa's current role revolves around gathering information and crafting it in a meaningful form that businesses can leverage. She helps companies communicate their vision and mission through digital platforms. Lisa believes in developing a symbiotic business relationship, where companies mutually support each other and grow together.
You want to know more about TimeTac?
Find out more about our products and services.
Find out more about our products and services.