7 Steps to Implement TimeTac
by Anna Eisner-Kollmann, 09.01.2023
How do you implement a time tracking solution? In this article, we would like to illustrate the process - from the first contact to the successful start with TimeTac in your company.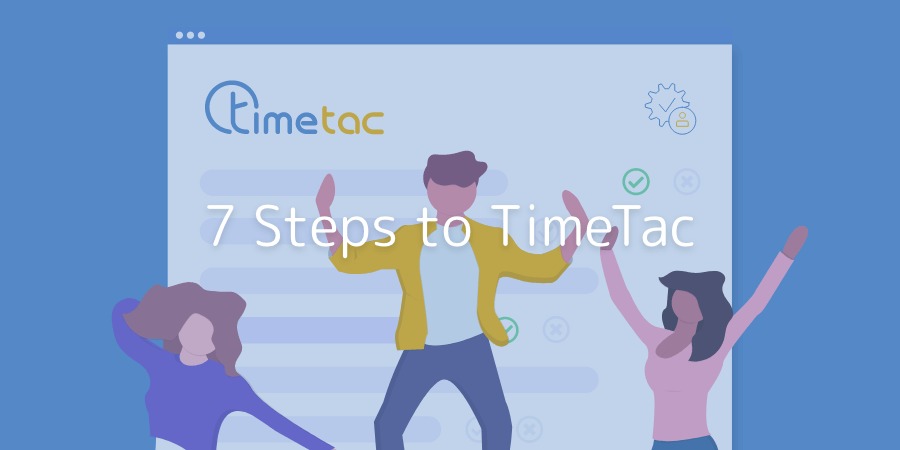 From First Contact to Daily Use
On our website, you can get a first impression of TimeTac and try out our time and attendance solutions without any obligations. Get an idea of the steps and processes you will go through together with us until the start of your time tracking solution.
Step 1
Get to know TimeTac
You have the possibility to test TimeTac for free and without obligation. To do so, create a test account via our website. Your test account is available to you for 30 days.
It is often easier to talk to someone. Don't hesitate to reach out. Our support team will be happy to assist you.
Step 2
Let's talk
What do you expect from your time tracking solution, what problems do you want to solve and what features are needed? Contact us – together, we will discuss your requirements.
Step 3
You will receive a written price quote
After clarifying your business requirements, we will provide you with a written offer upon request. Not only are all services listed and described in detail, but you will also find all useful pricing information.
Step 4
Welcome aboard!
Wonderful! You have chosen TimeTac, we are glad that you put your trust in us. Send us your assignment and activate your account online. You're ready to go!
Step 5
Your TimeTac account will be configured
Your TimeTac account will be set up and filled with all necessary data. You can do this setup process by yourself, or you can use our onboarding service. Together, we will configure your account. If you have also ordered hardware, we will send it fully configured.
Step 6
You will be trained on the product
We train your key users, i.e., employees from your company, who take over the administration of the account. From then on, you can work with TimeTac in test mode.
Step 7
Go-Live
As soon as the key users have trained your employees, there is nothing to hold you back from starting your time tracking. From now on, if you have any questions or uncertainties, contact our support team.