Become part of our development team!
by Sofia Oprisa, 07.06.2022
Get to know our devs! We are a constantly growing, innovative software company with ambitious goals. It means that we are always looking for motivated and talented people with whom we can achieve our goal of becoming the leading international provider of time-tracking solutions for companies. In today's blog post, we will give you an insight into the work of our dev team.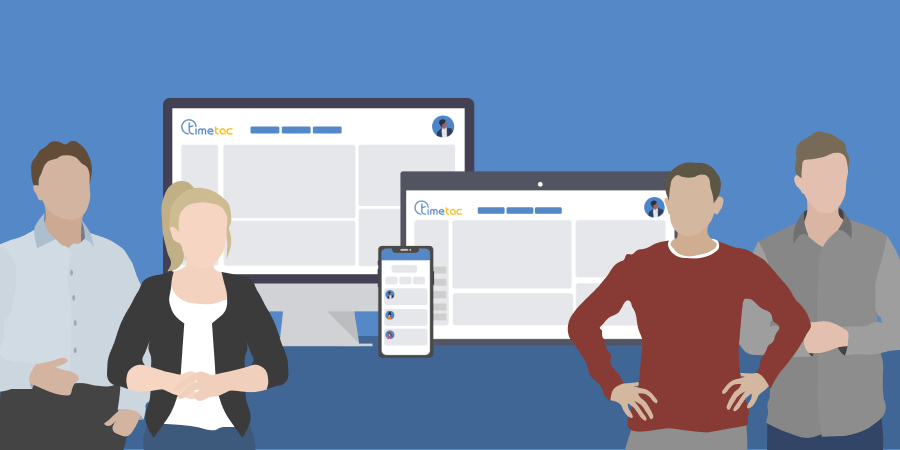 A team of qualified and highly motivated IT specialists is waiting for you!
Almost half of all the employees at TimeTac are developers. Since we are expanding rapidly, we are always looking for ambitious tech talents, like maybe YOU. To give you an idea of how we work and are organized here at TimeTac, we'd like to introduce our dev team to you in this post.
Our developers are split into five teams
TimeTac currently employs around 20 developers with a total employee count of more than 55. Our developers are working in five development teams:
Full-stack web developers team, working with our web app;
Native apps team for our iOS and Android apps;
Platform team, which develops the backend;
Integrations team, which connects TimeTac to other software solutions via automated interfaces.
Additionally, our independent DevOps team is working on infrastructure, continuous integration and delivery.
This is how we organize our daily work
Our goal is to develop and improve constantly. We use regular retrospectives to review our processes and adapt them to our needs. Our full-stack web development team uses Core Scrum with two-week sprint cycles. That helps us enhance transparency, and the short feedback loops help us reduce risks. The other teams work with a Kanban-based approach, which has proven very efficient in practice.
In addition to our development teams, we have so-called communities of practice where every developer can participate. These are special interest groups on, for example, frontend, backend, or security topics. Our communities of practice encourage cross-team learning, innovation, and cohesion between the teams.
These are our technical challenges
The only constant in software development is change. That's why we constantly strive to be at the cutting edge of technology. The challenge with a product as comprehensive as TimeTac is to find the right time to introduce new technologies and do so with a constantly growing user base that uses TimeTac daily.
What makes our team special
Bernd Pichlbauer, the CEO & Co-Founder of TimeTac:
"I am very proud of our appreciative corporate culture, which is based on mutual trust. Our colleagues are extremely self-motivated and always give their best. Willingness to help is very important, as is modesty and the willingness to always learn something new."
Insights into the work of our employees
At the TechTalk Days 2021 in Linz, four of our employees talked about their practical experience and gave exciting insights into their work.
Anna Kastner is currently already a team lead of the integrations team. In her TechTalk, she shares how her team approached the challenges of integrations.
Ludwig Blaikner is the team leader of the mobile native apps and works as an iOS software developer. He talks about the way the team built the software on the basis of a design proposal.
Tomi Močnik leads the team of frontend developers.Tomi explains how the decision to switch to a new frontend framework was made and his team's experiences.
Boris Lazendic leads the team of backend developers. He shows the advantages of Xdebug and checks if there is any truth in the usual prejudices about this topic.
Did it spark your interest? You can find the current open positions in the dev teams here. If you want to learn more, for example, which tech stack we work with, which perspectives we offer you at TimeTac, or what our application process in the dev team looks like, you can read all the information here.
Apply to join the dev team!
Do you think you can be a good fit, or do you have any questions? We look forward to your email.
Do you think you can be a good fit, or do you have any questions? We look forward to your email.