The Benefits of Dog-Friendly Working Environments
by Magdalena Fladl, 18.12.2019
It is almost guaranteed that the owner of a dog benefits from taking their beloved pet to work. Here's why dog-friendly working environments promote happiness, why dogs reduce employee stress and how you can create a comfortable, safe place for employers, employees, and dogs at work.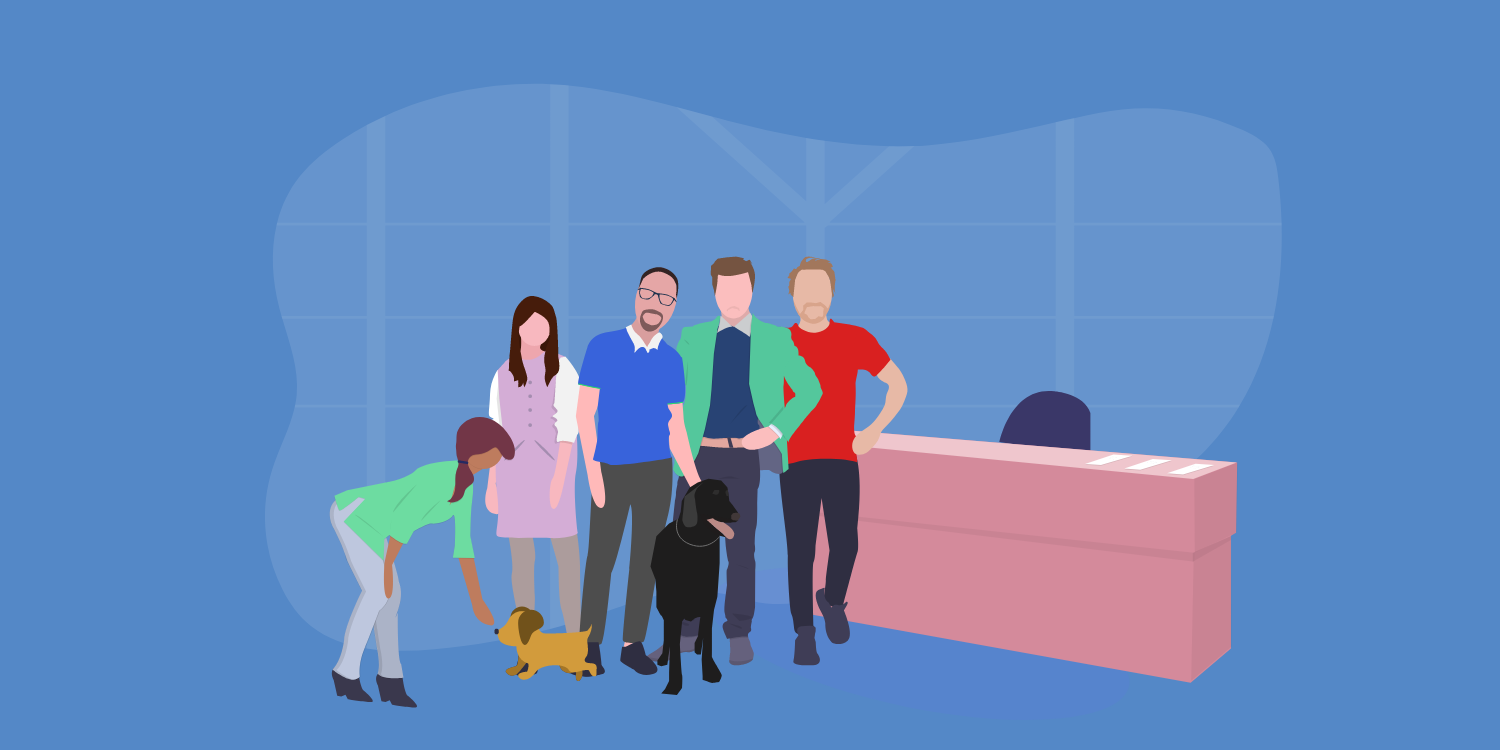 The Pros of Having an Office Doggo
According to a study published by the International Journal of Environmental Research and Public Health in May 2017, "one potential benefit of dogs in the workplace is that they provide an additional source of social support for the employee". Social support is the perception and actuality that someone cares for you, you have assistance available from other people and you are part of a supportive social network. These supportive resources can either be emotional, informational, instrumental or appraisal.
6 Benefits of Having Dogs at Your Workplace
Office dogs help reduce employee stress
Dogs boost office morale
Dog-friendly workplaces promote productivity
Office dogs help improve communication
Dogs encourage a healthier lifestyle
Office dogs get socialized, rather than being left home alone
Types of Office Dogs
Service dogs who accompany an employee with a disability are most common to be found in workplaces. These dogs assist a person with a disability and trained to perform tasks. The nature of the disability can be visual or hearing impairments, physical, or psychological e.g. post-traumatic stress disorder or panic disorder. Dogs can reduce the duration of attacks and associated symptoms of anxiety. Therapy dogs, who assist a professional service provider in the rehabilitation or treatment of patients or clients e.g. healthcare setting, can also often be found in workplaces.
Employers are establishing pet-friendly working environments that permit their employees to bring their well-behaved dogs to work regardless of a disability e.g. Amazon, Google, Etsy. Dog-friendly policies can be added to the list of workplace benefits in order to attract and maintain talent especially regarding millennials. Dog-friendly workplaces appear more attractive to prospective employees.
Amazon's Puppies
Even on-site accommodations are provided for the care and welfare of dogs. Over 7000 dogs are registered to come to work at Amazon's headquarters campus in Seattle. Rover.com, the world's largest network of pet sitters and dog walkers, published a ranking of the best dog-friendly companies of 2019 and Amazon appears to be number one. An average of 800 dogs is on campus each day, where employees can also buy lunches for them. Once their owners have a meeting, the pups head to the in-house dog daycare, where they are pampered.

Fun Fact: One of the buildings on Amazon's Seattle campus is named after a Welsh Corgi named Rufus. The pup even got to ceremoniously click the mouse to launch some of Amazon's first pages.
At the Workplace
It is almost guaranteed that the owner of a dog benefits from bringing their pup to work. However, not all dogs are perfect for working environments and not all employees enjoy dogs or simply might be allergic. At such workplaces, there are some things to consider before implementing a dog-friendly environment.
Creating a Comfortable, Safe Place for Everyone
What employers can do:
Ensure that your employees supervise their dogs
Ask your employees to keep their dog's bedding clean at all times
Make sure the employees taking their dogs to work have the shortest route to their desk
Implement HEPA filters to provide allergy relief
Set up "No-dog-zones" (sections or floors)
Stay well-stocked with cleaning supplies, including disinfecting spray, stain and odor remover, rags, paper towels and a bucket with a mop.
What employees can do:
Make sure your dog is up-to-date on their shots
Take the dog outside every few hours to use the designated area for "doggy business"
Clean up after your dog – make sure it's not disruptive
Note:
Dogs showing aggression or biting a person or another dog cannot be allowed back in the office
Be aware of and most importantly, respect that not all co-workers and visitors are "dog people"
More Ways to Keep Your Employees Happy
With TimeTac you can also create "pet dog" as a task.