Employee Self Service: efficiency and transparency
by Gabriele Kaier, 27.04.2017
TimeTac offers a kind of web-based employee self service which enables employees to perform some functions for themselves such as clock in or out via web, view their timecard, request vacation time and more. Thus, employees get actively involved by accessing their personal records, updating their own data or creating individual reports. They can request leave, view overtime or time off. The feature enables managers to approve requests easily and efficiently through workflows and have full overview of employee working times and timesheets as well as export detailed reports in just a few minutes. Employee self service means self-responsibility, transparency and last but not least savings in administrative effort, costs, and time.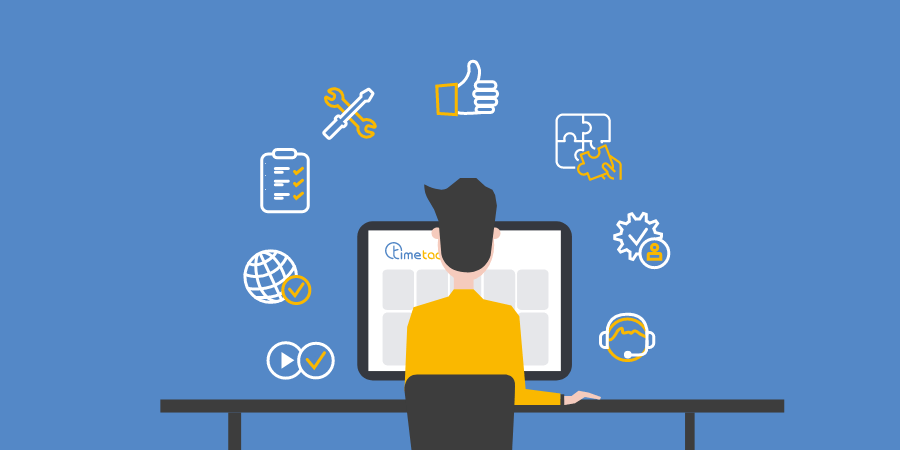 TimeTac offers you a range of benefits
Employees can:
Gain anytime access to working hours, breaks, or absences
Send requests to managers for leave, absence or modification of time records
Gain an overview on leave days or sickness absences
View current request status and get manager's approval/disapproval per e-mail
Confirm timesheets for payroll processing in just a few clicks, without wasting time and paper and in compliance with the law
Manager Self Service:
Monitor employee attendance and absences in real time: Get insights into your team's availability with the Team- and Department Calendar
Modify, cancel or just track leave requests: Track clashes in absence and reduce costly mistakes with the absence manager
View leave history
Directly approve requests in your browser using approval workflows or through the app when you are on the move
Export individual and department-wide employee reports
The advantages of Employee Self Service summarized
Save administrative time and costs: Reduce routine administrative efforts and relieve HR from administrative stress
Simplify and speed up work processes
Quickly process leave requests and absences
Lower costs for printing, paper and archiving efforts
Empower and motivate your employees
Create transparency for employees and managers
TimeTac is a web-based time tracking system which enables your employees to track their time, absences, and time off no matter their location or the time of the day. Approval processes get shortened as you save time and costs. Thanks to self service, human resources managers save valuable administrative time and can allocate their time in more valuable tasks.