Interesting Tools for Remote Working – Teamwork From Anywhere
by Gabriele Kaier, 02.05.2022
Remote working has become part of our new work culture. Yet it can be challenging to work in a team and coordinate when working outside the office. We have put together some valuable tips and tools to help you and your team work most efficiently and productively no matter where you and your colleagues are working from.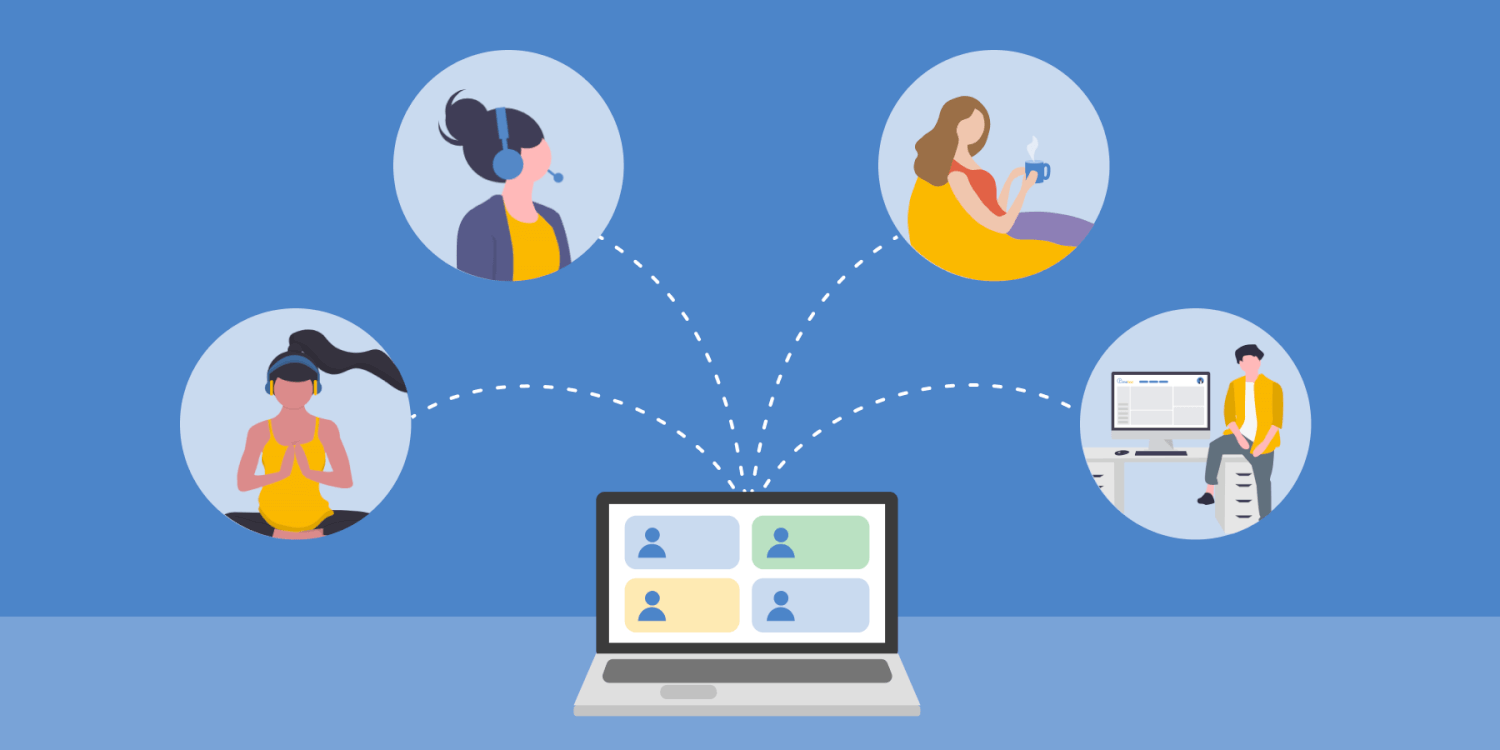 These 7 Collaboration Tools Guarantee More Efficient Remote Working
Even as the world enters the new normal, businesses plan to allow their employees to work from home. In fact, 89% of companies have already introduced a remote working policy or are planning to. If you are planning to make remote work a permanent part of your business operations, you need to invest in the right tools to make it work.
With countless software solutions to choose from, it can be hard to determine which ones you really need. You can end up losing more if you invest in one that does not meet your business' demands. So before deciding on what software to use for your remote work, consider researching first what remote working apps would work best for you. To give you a head start, here are some interesting software to consider.
1. Instant Messaging Applications
Working remotely can feel isolating. Interactions between employees don't have the same natural flow and spontaneity that traditional workplaces usually have. While emails provide an avenue for communication among team members, the waiting time between replies can be disrupted. Worse, it can even cause delays in accomplishing tasks. Keep communication lines open using instant messaging or chat applications. More companies are using these applications for official communication purposes instead of emails. It allows employees to reply quickly and instantaneously thanks to its push notification feature. You can use these tools to engage remote employees since it makes communication more accessible.
Other features that chat applications have are:
Files and document attachment
Video and voice calls
Voice mails
Integrations with other solutions
2. Video Conferencing Tools
One of the challenges in remote work is the lack of face-to-face interactions among team members. Employees must settle with virtual interactions like calls, emails, and messaging. However, these avenues for communication make it harder to facilitate meetings and conferences within the organization.
Fortunately, there are various tools you can use to hold virtual meetings and conferences. The advancement in technology means video calling tools can support multiple callers all at once. It can even allow hundreds of people to join the session, allowing businesses to hold company-wide events remotely.
Using video conferencing tools is a more effective way to build rapport within teams. It simulates face-to-face interactions—although virtually—making it easier for discussions to flow more naturally and instantaneously. No more waiting time between replies just to get to an agreement within the team. Hence, video conferencing tools pave the way for better teamwork.
3. Time Tracking Software
Remote work makes it difficult to keep tabs on your employees' attendance and performance. Employees, on the other hand, struggle to focus on their tasks due to the numerous distractions at home. As a result, some have trouble maintaining their productivity. Another essential software for remote working is a time tracking software. With its live or retrospective time tracking, it can boost transparency and accuracy when it comes to employee attendance and productivity. This helps you ensure that your employees are using their work hours appropriately while working from home.
A time tracking software can send you detailed reports about your employees' activities and performance during work hours. It calculates the total worked hours and tracks breaks in between. Some trackers also screenshot your employee's screen to make sure that they are not doing anything else during work hours.
You can also integrate your time tracking software directly into your payroll software. This makes it easier to import data into your payroll accounting. This way, you can automate payroll processing within your organization. You can check out this list of payroll software to find out which ones you can connect with your time tracking software.
4. Collaboration and Project Management Software
At first glance, collaboration and remote work don't seem to go together. Teams find it hard to coordinate and work on a project because their members work in different locations. Thankfully, there is collaboration and project management software that teams can use to work together remotely.
A project management software provides teams with features and functions that streamline virtual collaboration and teamwork. This includes centralized dashboards where members can have a bird's eye view of their project's progress. The software can also automate task management such as delegating tasks to each member and monitoring their performance in the process.
Some of the best remote working platforms also have built-in chat features where members can directly message each and send files. Others also have a shared calendar where teams can view the timeline for their project, schedule meetings, and set deadlines.
On the other hand, some productivity suites have real-time collaborative editing features where multiple users can work on a single document at the same time. Google Workspace and Microsoft 365, for example, have such a feature.
5. File Storage Tools
Your remote employees need access to files and documents to be able to work from home. Make sure that these are accessible by investing in a centralized file storage solution. Digitization makes it easier to share files and documents over the internet. You can email them or attach them in chats. But the most convenient way to make these files and documents accessible is through centralized file storage.
These are cloud-based storage solutions that your remote workers can access via the internet. Famous examples are Google Drive, Dropbox, and Microsoft OneDrive. These cloud storage platforms don't just let you share files and documents. You can also use it to share folders or an entire database in just a few clicks.
6. Remote Access and Support Tools
Emergencies can sometimes come up when you least expect them to. This is especially true when implementing new technologies in your company. When that happens, you need to make sure that your employees get the support and assistance they need to resolve such issues at home. What you need is remote access and support tools to help your remote employees.
Your employees can use these tools to take screenshots, record their screens, or allow your IT team remote access to their devices. This streamlines collaboration when troubleshooting programs or hardware itself.
There are many benefits to using remote access and support tools. It saves your employees from needing to go to the office just to resolve an issue with a program or device. This also allows them to get back to their tasks a lot quicker. On the other hand, your IT teams don't need to go house-to-house to install updates or troubleshoot any issues with important business programs.
7. Security Software
Cybersecurity is one of the top concerns in remote work, and your employees are more vulnerable than ever while they work from home. If one of your employees' devices gets compromised, the entire organization can be affected as well. So make sure to invest in reliable security software to keep your data protected.
Ready for the Future
According to PwC, 56% of workers expect to continue working from home in the next few years. It is important that businesses can accommodate such demands by providing their workers with the tools they need to work from home. So whether or not you are planning to make remote work a permanent part of your business operations, it is a good idea to invest in different business software for remote work. Doing so will allow your operations to become more flexible and future-ready.
A great remote working tools example is TimeTac. It is a time tracking software that helps you monitor your employees' productivity and attendance. It also has project management features to help you track your projects' progress. So if you are looking for a flexible software for your remote work, check out TimeTac.
Flexible Remote Time Tracking
Are you interested in TimeTac's Employee Time Tracking?
Are you interested in TimeTac's Employee Time Tracking?