Hybrid Work: Should I Stay or Should I Go?
by Anna Eisner-Kollmann, 25.04.2023
Office or remote work – does it always have to be one or the other? A hybrid work model opens up new opportunities, but also risks. Find out how companies are balancing flexibility and control – and what impact this will have on the future of the working world.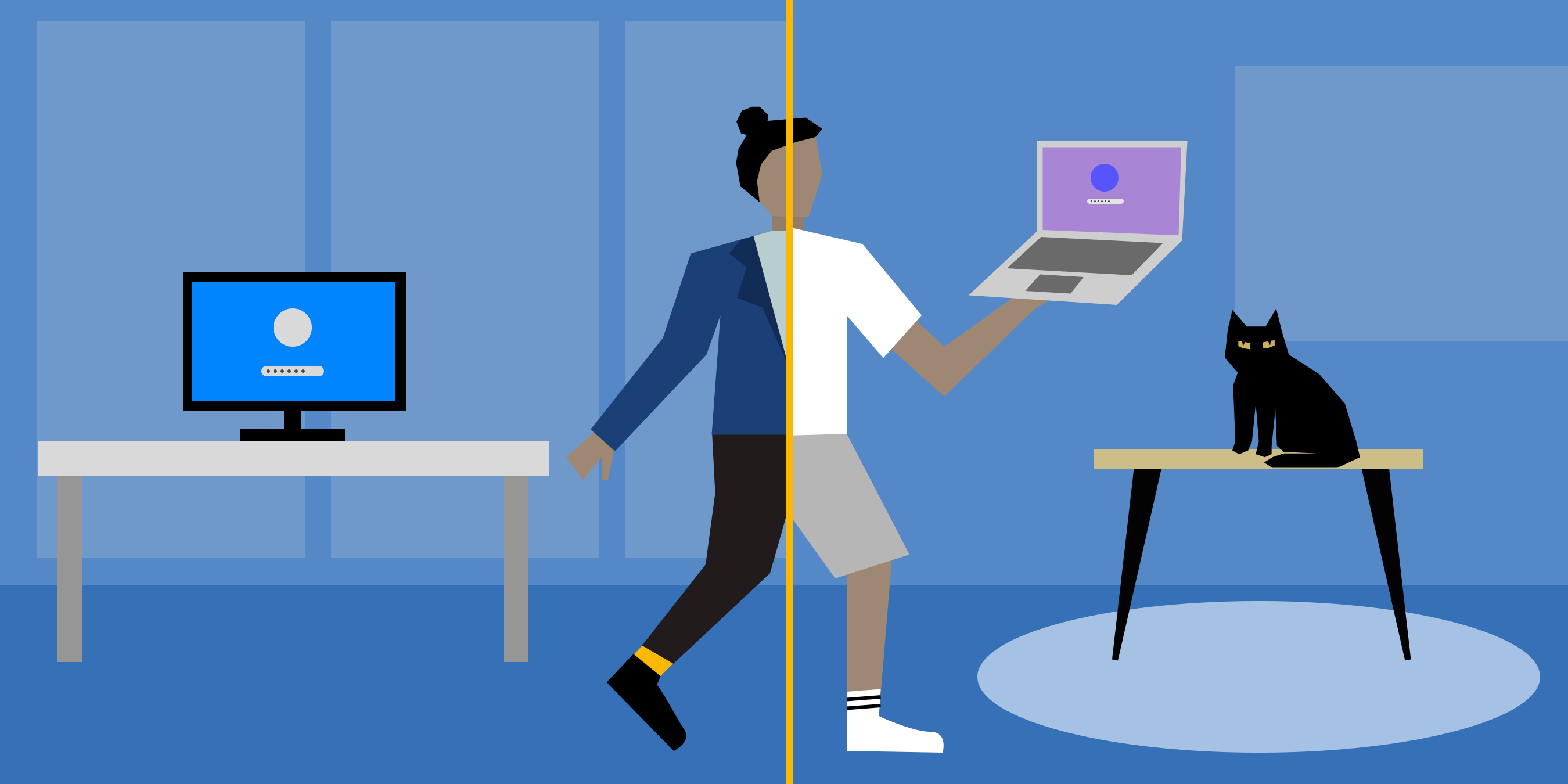 What Is Hybrid Working?
Hybrid working arrangements are a combination of working from home or remote work and in-office work. That means employees do not have to be in the office every day, but can also work from home or remotely, i.e., at any location.
Advantages and Disadvantages
Hybrid working has many advantages: It saves time and money on commuting, allows for more flexibility in work schedules, and offers a better work-life balance. Despite the advantages of hybrid work models, there are also disadvantages. Being separated from colleagues can have a negative impact on team spirit and collaboration. Working at home often leads to a lack of separation between work and leisure, indicators of exhaustion and burnout among employees.
Types of Hybrid Working
There are several hybrid work models that can vary depending on the needs and requirements of employees and employers.
Office first:

Employees work in the office. Home office or remote work is only possible in exceptional cases.

Hybrid static: Fixed days are defined on which employees must be present in the office.

For example, everyone works in the office from Monday to Wednesday, Thursday and Friday from home or remote.

Hybrid individual: It is defined by how many days of the week or month remote work is permitted. Employees choose which days they want to spend in the office. Plans for this are usually defined a month in advance.
Hybrid flexible: There is no specification of how much of the working time must be completed in the office or remotely. Employees can to decide how to divide their working time between the office or remote work.
Remote/home office first: Working from home or remotely are standard. Employees only visit the office on special occasions.

There is often no permanent office space, but premises are rented for events.
These different models can be combined or adapted to the needs of the company and the employees. Hybrid working can therefore be very flexible, and there is no single definition or approach.
Is a Hybrid model the Future of Work?
TimeTac keeps a close eye on time, but we cannot (yet) predict the future. However, it can be said with a clear conscience that hybrid working is the model of the future. Why? A 2021 study by Accenture of 10,750 employees and 200 CEOs found that 83% of employees want a hybrid work model. These reasons make the case for the work model of the future:
1. The Corona pandemic has shown that it is possible to work productively from home. Many companies have found that their employees can successfully perform without being present in the office.
2. Two words: employee loyalty! Hybrid working, i.e., the option of home office or remote working, are popular. No wonder: they offer more flexibility and allow for a better work-life balance. That can lead to higher employee satisfaction, higher motivation and, as a result, more productivity and employee retention.
3. Another reason is that hybrid work policies allow companies to tap into a wider talent pool. This model definitely makes the workplace more attractive. That means that more people will be interested in working for your company if you offer the option of hybrid working.
4. Hybrid working can also help decrease costs, as it requires less office space and infrastructure. This can be especially beneficial for small and medium-sized businesses.
All in all, there are many reasons why hybrid working is the model of the future. It offers flexibility, better work-life balance, higher employee satisfaction, talent attraction, and cost savings. As a result, hybrid working will likely continue to become more common in the future.
One fly in the ointment is that while companies were willing to enable hybrid working during or after the pandemic, circumstances often needed to be more coherent for employees. While most companies today promise some level of flexible working, many need to effectively equip their employees with the technology, tools, and authority they need. In 2022, Accenture's follow-up study showed that many companies are taking very limited steps to expand hybrid working.
Challenges of Managing Hybrid Teams
It is clear that hybrid teams cannot be managed in the same way as teams that work exclusively in a shared office. Managers, for example, must be prepared to adapt their leadership strategies to implement the hybrid work model successfully. The so-called distance bias (or proximity bias) states that you are automatically orienting the attention to things that are closer to you. Therefore, working remotely can also unintentionally lead to unequal treatment of co-workers. All team members require a high level of flexibility, openness, and trust to ensure that all employees can work successfully, regardless of where they are.
We have summarized here some points that are important for allowing hybrid working:
Communication: Clear and open communication is crucial to ensure that all employees know the hybrid working model's expectations, rules, and processes. Do all team members feel supported and picked up? Respectively, do they feel comfortable in their work environment?
Trust: A hybrid work model can succeed only when managers trust their employees and vice versa. Employees must be able to work independently. Critical: The results count, not the time spent in the office!
Flexibility: Managers should be flexible and willing to adapt the hybrid work model to meet the changing needs of employees. It may mean adapting specific rules or processes to ensure the team can collaborate effectively.
Culture: It won't be a good match if your company maintains a modern corporate culture but insists on office-only attendance hours. Respectively, do they feel comfortable in their work environment?
Technology: Obvious but often still complicated for many companies: technical equipment. Managers must ensure their teams have the right tools to collaborate and communicate effectively.
Organization: We recommend a web-based and therefore location-independent time tracking system, like TimeTac. The software perfectly supports you in time and performance tracking of flexible forms of work or teamwork. This way, you can be sure that your employees working remotely also comply with all legal working and rest times. With our tool, you have a perfect handle on overtime, extra hours, and all other agreements. See who is working on what at any time – this not only facilitates collaboration, but also creates transparency for everyone.
Stay Flexible
Whether in the office or remotely, TimeTac helps to keep track of time.