Absence Management: How to Reduce Sick Leaves in Your Company
by Gabriele Kaier, 10.01.2022
Sick leave among employees and management has a direct impact on the profitability of a company. Absences due to sickness lead to an additional workload, increase demotivation and the error rate. Therefore, it should be of interest to every company what the reasons for absenteeism are and how they can be avoided. We show you seven strategies for health management in your company.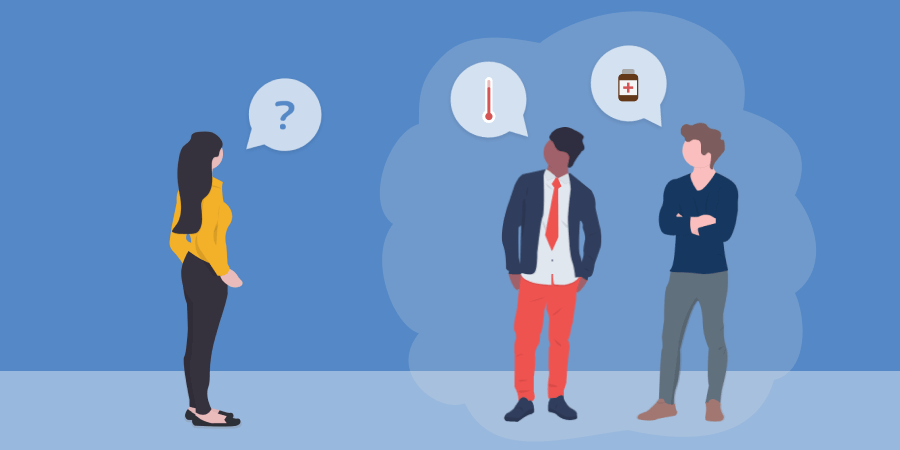 Is Your Absenteeism Rate Too High?
The absence rate is an important key figure for management. In order to calculate it, time of absence is needed. In 2021 an estimated 149.3 million working days were lost because of sickness or injury in Great Britain. This is equivalent to 4.6 days per worker. Therefore, the sickness absence rate rose to 2.2% in 2021 compared to a rate of 1.8% in 2020. This increase can be attributed in part to the coronavirus.
7 tips for your absence management
The numbers don't sound really high, and it's definitely important for employees to call in sick when they are sick. However, also in order to focus on the health of employees, every sick day is one too many. Through targeted health management, measures can be taken to promote health.
1. Manage and Analyze Work Absences
Before launching prevention measures, understand the causes of sickness absence and determine the most common symptoms and influencing factors:
What kinds of illnesses constantly occur in your team/company?
What conclusions can you draw?
Are there any trigger or influencing factors which cause or determine the sickness?
How can you minimize these triggers?
If your company does not have medical staff who can be consulted on the symptoms and their causes, you can seek support from the health insurance funds. They offer tips and information on occupational health management.
2.  Pay Attention to the Working Environment
Always remember: Satisfied employees are less likely to be sick. The working atmosphere and the company benefits can make employees feel more comfortable in the company. When introducing a workplace health promotion program, they need to consider:
What level of compliance do my employees have?
Which employee is the best candidate for a task?
Is the employee under- or over challenged?
What are the employee career goals and does it entail a promotion?
Is every team member successfully integrated?
The goal: Satisfied employees take fewer sick days!
3. Create Flexible Working Hours
Flexible work schedules take care of the employee's personal rhythm and foster productivity. Work-life balance is important for aligning private and professional needs. Flexible working raises employee motivation and satisfaction and reduces stress – which in turn reduces absenteeism. Have you ever considered implementing a four-day workweek?
4. Improve the Workplace
In order to be able to design the workplace optimally, a number of aspects should be included:
Ergonomic conditions
Lighting conditions
Noise disturbance
Indoor climate
Dissatisfaction due to odors or gases, for example through printers or other devices
Personnel opportunities to contribute to the workspace design
Once in a while, review the above points and track any weaknesses, paying attention to any employee complaints.
5. Talk with your employees
Two conversations should be held within the absenteeism management process:
1. With employees who are often only sick for a few days. The aim here is to determine whether any operational factors are the cause of the absences.
2. Return-to-work interviews in the event of extended absences to facilitate the employee's return to work.

6. Strengthen team spirit

Raise awareness for absenteeism instead of explaining the negative effects on your business, sensitize your employees on a team level:

Absence time affects the whole team.
Absence time means more work for colleagues.
Absence time obstructs projects progress

7. Reinforce Safety and Reduce Workplace Accidents

Sick leaves are often caused by neglecting safety precautions or out of misperceptions of accident sources. Many companies have successfully reinforced their accident prevention and control methods.

The following questions could help you:

Is there any health and safety advisor in your company?
Are you complying with the health and safety laws or regulations?
Have you informed your employees about the occupational health and safety standards?
Do your employees wear protective clothing or footwear where required?
A high absence rate is a significant cost factor and can be a serious early warning indicator that something is wrong in your company. Only creative, committed and motivated employees contribute successfully to value creation. Introduce absenteeism management and recognize the links between work, health and illness of your employees in order to increase the health and satisfaction of your employees and thus their performance.
Manage Absenteeism With Time Tracking
With TimeTac you have all absences – whether sick leave, training, time off, and vacation of your employees perfectly in view. All absences can be easily planned, requested and managed. This saves you and your employees time and effort!
Manage Absences Successfully
TimeTac makes planning easier for you.
TimeTac bietet ein einfaches nutzerfreundliches System.