The Ultimate List of the Top 7 Productivity Apps for More Focus and Efficiency
by Anna Eisner-Kollmann, 22.08.2023
We all know the feeling when time flies by, and we wonder what we did all day. But luckily, we have a solution: apps for more productivity! Whether you use Android or iOS, these apps will help you organize your work, create tasks, and take notes in no time. Go ahead and open up the Play or App Store and get started!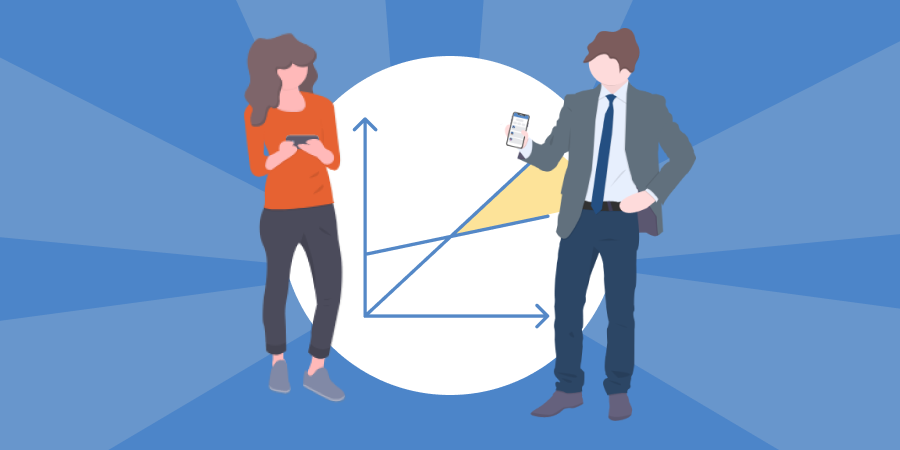 Why Use Apps for More Productivity?
Do you have too many tasks and not enough time? Don't worry; with time management apps, you can increase your productivity and use your precious time efficiently. They offer a wide range of features that can make your work life much easier. Whether you use Android or iOS, a wide selection of apps that can help you easily organize tasks and get them done quickly.
Trello is a web-based tool that allows you to organize and manage your projects visually. It offers an intuitive interface that makes it easy to collect tasks and information as cards and arrange them on a board corresponding to a project's different stages (e.g., to-do, in progress, finished). Each column contains cards with tasks. You attach text, checklists, notes, and other details to these cards for completeness.
Another handy feature of Trello is the ability to invite members to the board and assign specific tasks to them. This way, everyone on the team can see their responsibilities and knows what they need to do next.
The app can be used with Android and iOS.
Todoist is a task management app that helps users organize their daily tasks and to-do lists. The app offers features like project creation, subtasks, priorities, due dates, and reminders. You can set daily and weekly goals and visualize your productivity progress. This way, you know exactly what has already been done and how much work is still ahead of you.
In addition, Todoist also offers team functions: Sharing lists with colleagues makes it easy to handle work projects without constantly sending emails back and forth.
You can get the app for Android and for iOS.
This app is all about focus. Those who use the smartphone lose! If you want to work focused, without distraction from your cell phone, set a timer and plant a virtual seed. As you work diligently and productively, the seed grows into a magnificent tree. However, if you give in to temptation and close the app to use your smartphone, the tree dies. Although this reward or penalty may initially seem small, it has far-reaching effects. Namely, for every tree that grows, you receive coins that you can donate to the organization for planting real trees. Thus, you not only contribute to personal productivity but also to the protection of our environment.
But that's not all: Forest also offers a community feature. Together with your team, you'll plant trees and each team member will get social support while working in a concentrated way. You'll be so focused that you'll be able to see the forest for the trees!
Download the app for Android or iOS.
TimeTac offers companies time and location-independent digital time tracking. The cloud solution can thus be flexibly adapted to work situations. With just a few clicks, employees create their working and break times, enter vacation, or keep track of project times.
The special feature of the tool: It works on a wide variety of devices. Time can be tracked live or subsequently. That means you can clock in on your laptop in the office, for example, and track time for a client project, then get in the company car and finish the task on site. Optionally, you capture GPS location data at the beginning and end of each time entry.
With the help of the geofencing function for smartphones, you determine the exact geographical area in which your employees are allowed to record working and project time. In this way, you benefit from effortless mobile time tracking, which provides traceable working and project times for different, spatially separated work areas and assignments.
The app is available on Android as well as on iOS.
This app allows you to listen to sounds and music proven to improve your concentration at work. You take a short test at the beginning, and off you go. Classical, acoustic and relaxing sounds sharpen your senses and lead you into a so-called flow. If you prefer, you can also choose faster rhythms or background sounds like the rushing water.
Scientific proof for more focus: together with Cornell University, the app has published a research white paper titled The Influence of Streamlined Music on Cognition and Mood. Focus@will also has a timer and a focus tracker. It makes it even easier to measure both time and focus.
Listen to music via Android or iOS app.
Stressful day at work? How about a moment to yourself? Mindfulness is not just the name of the app, but mindfulness, or mindfulness, is a technique for improving mental health and concentration. Through meditation, you learn to control your thoughts and focus on the present moment. The app offers different types of meditation exercises – ranging from short 5-minute sessions to longer sessions. The activities are kept simple and can be done at any time – whether on the train on the way to work or during a break at the office. The statistics feature allows you to track your progress and stay motivated. You can see directly how long you have been meditating and how many times a day you manage to have a moment for yourself.
The app is available for Android and for iOS.
Slack is a team communication tool allowing real-time messages and file sharing. It also offers features like group chats, channels for specific topics or projects, video and voice calls, and integrations with tools like Google Drive or Trello. That makes it one of the best apps when it comes to collaborative and easy work. Slack allows team members to communicate and collaborate more effectively, leading to higher productivity. The ability to gather all relevant information in one place and access it quickly makes teamwork easier and saves time. The ability to integrate other tools can also help streamline workflows.
Download know for Android or iOS.
Bottom Line – Take Advantage of These Apps to Make Your Day More Productive!
Congratulations! You now know about the ultimate list of top 7 time management apps for more focus and efficiency! Now what? If you use Android or iOS, open either Play or App Store, start downloading, and test which app suits your needs best. You will see: Whether you work in a busy office or track your projects remotely, these apps will be an indispensable part of your workday!