Bye, Bye Administrative Chaos Related to Leave Days and Other Absences!
by Magdalena Fladl, 12.04.2022
Requesting leave days, approving absences, calculating holiday entitlements, keeping track of leave days and other absences, etc. are time-consuming processes and cost you a lot of time and energy. We want to make the organizational process around working hours as easy and pleasant as possible for you and help you manage absences efficiently.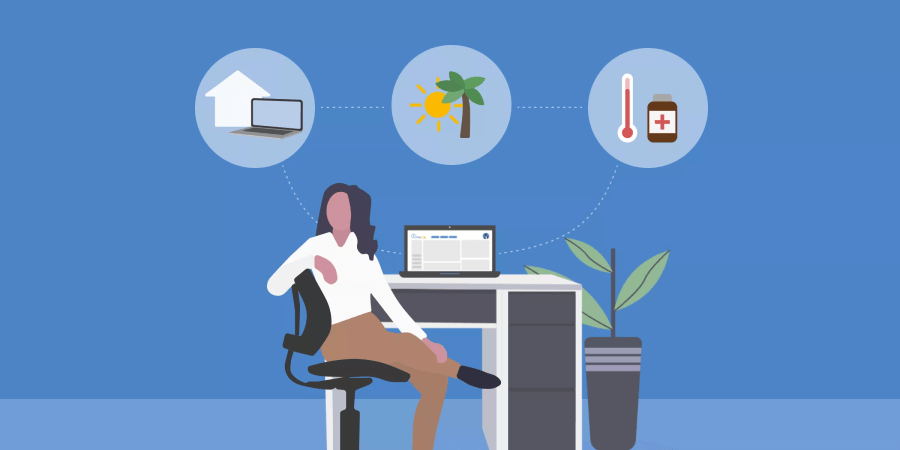 Less Effort, Better Overview, More Efficient Planning!
Not having a Leave Management software often places an enormous burden on HR departments. Especially, planned absences like vacation can create a lot of stress in a team. Calculating each employee's annual leave, tracking absences, managing sick leave, etc., is tedious and time-consuming without the appropriate tool. However, many departments still use a simple Excel vacation planner to manage their employees' leave days and other absences.
A Leave Management and Holiday Planner software will help you work much more efficiently. The software is designed to simplify the tasks of personnel management. Therefore, let's look at the benefits and features of this software:
Task Automation
Automation of tasks is one of the main advantages, as it allows for a better and smooth work process. The employees' holiday planner is continuously updated. You can always see the holiday entitlement balance because the software automatically deducts already consumed vacation days.
You have to manually enter and update all information in the Excel spreadsheet, e.g., each employee's leave request and the remaining holiday entitlement. Like in any manual task, errors could easily occur, leading to discrepancies with the actual balance of respective employee.
If you use TimeTac Employee Time Tracking without combining it with the TimeTac Leave Management module, then you have to enter the absences manually in the timesheet. If you combine both our modules, the leave days and other absences are automatically taken into account.

Time Saving
Absence management can cause a high administrative effort for HR departments. Administrative tasks such as processing leave requests, entering absences in Excel lists, etc., are among the most significant time-consuming tasks for HR managers and cost the company time and money. Using the appropriate software can help efficiently distribute your resources and achieve better results.
Employees contact the responsible manager by email and request their leave days. The HR manager then checks their holiday planner and responds to the email. The requested leave days are then still entered manually into the spreadsheet. This process generates many emails and takes a lot of time.
With TimeTac's Leave Management, employees can request leave days or other absences directly, and the manager can easily approve or deny the request with a few clicks. Before making this decision, the manager can view the calendar of the respective employee and thus easily see whether all requirements are fulfilled.
Accessibility and Teamwork
TimeTac's Leave Management is web-based. This means that all data is stored in the cloud, making teamwork much easier. Why? Every employee in the HR department has access to the software and can view all its information, which is shared with the rest of the team and updated in real-time.
Another benefit is that HR can access the software from any device at any time. They no longer need to be in the office. Manage your team from wherever and whenever you want.
Important Information
With just a few clicks, you can access absence quotas for individual employees or entire departments, whether for internal use or sharing with the management.
Facilitate Absence and Leave Management
Optimize your time and invest your energy in more important tasks.
Facilitate collaboration between your teams.
Automate repetitive and tedious tasks.
Manage absences with one click.
Keep an overview of leave days and other absences.
The Most Important Features:
All leave days are automatically calculated. TimeTac does the calculation for you based on your settings.
Set up the approval workflows and automatic notifications for all leave requests.
In addition to leave days and sick days, you can easily manage business trips, training sessions, remote working and all other absences that occur in the company directly via the software.
Gain insightful reports on leave days, sick leave and other absences with just a few clicks.