"Hey Siri, start a task!"
by Anna Eisner-Kollmann, 13.07.2023
From now on, you can track your working time with your voice. Apple's voice assistant Siri and the new version of the TimeTac iOS app make it possible. And you can use iOS shortcuts to define automations, such as automatically starting time tracking when you enter the office. Sounds amazing? Read on!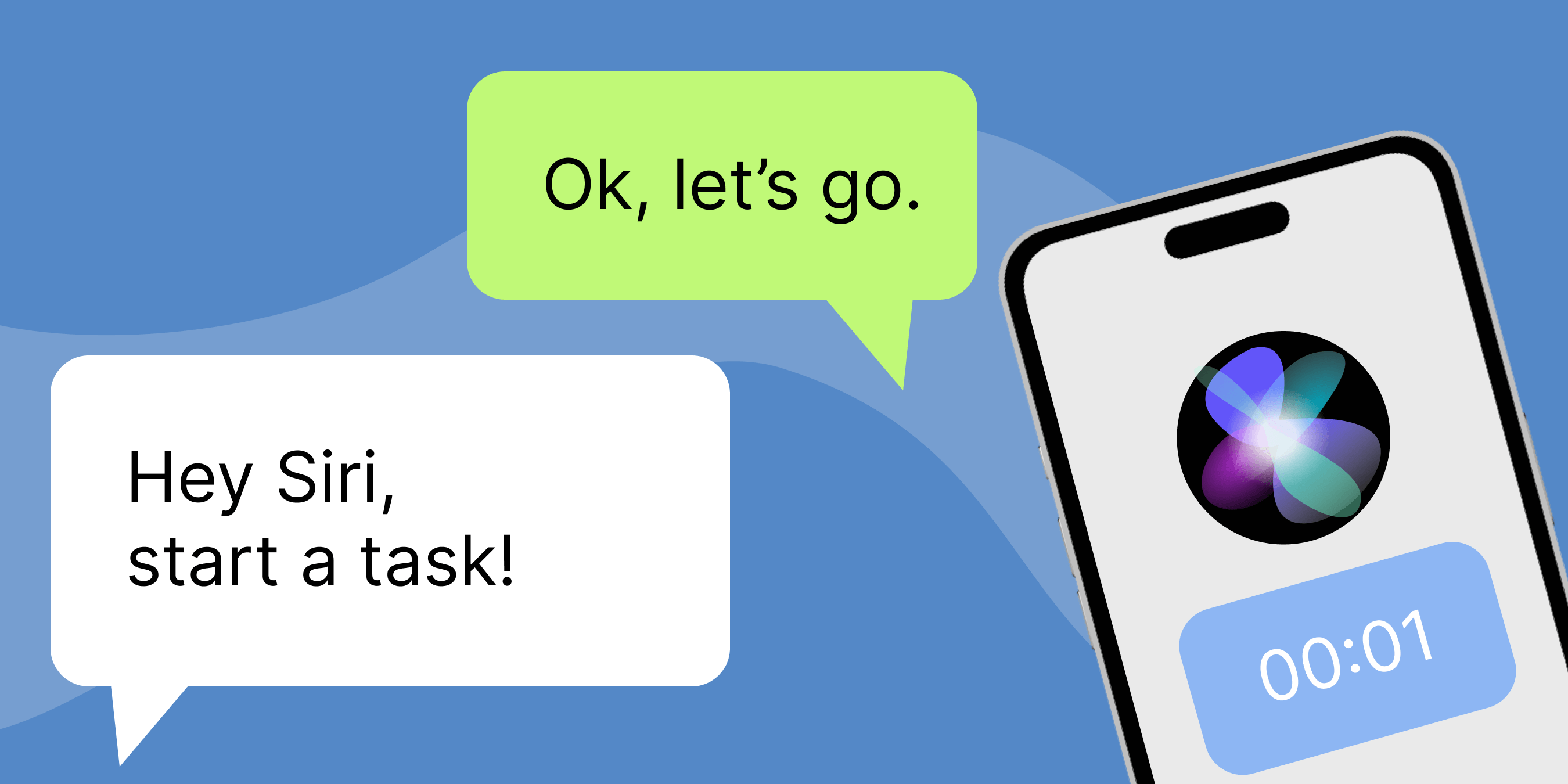 Time Tracking via Voice Commands and Shortcuts
Mobile time tracking is not just super handy when you work remotely or on the go. When tracking time with your phone, possible uses include NFC time tracking, the ability to locate time bookings, and now for iOS, time tracking using voice commands and defined shortcuts.
Time tracking by means of speech and short commands not only offer technology-savvy people a playful form of time recording, it also helps you remember to track time and provides support for people with disabilities.
You are not using the TimeTac app yet? Then it's about time! Simply download the app from the stores for free (Android / iOS). Please note: As a user, you need an approval by your TimeTac administrator within your company account to use the mobile time tracking!
Time Tracking with Siri
You can track time in TimeTac using voice commands. Currently, the following voice commands are possible: start, stop and break. For this you require an iPhone, the TimeTac app (as a user, permission for mobile time tracking), live time tracking, and you need to configure the automation on your iPhone beforehand.
How it works:
Set up your preferred voice commands in the 'Settings' section of the TimeTac App. We currently support starting the last running task, stopping a running task and starting a break.

To start time tracking, simply say to your iPhone "Hey Siri, start a task" and the time tracking will start.

To activate time tracking, simply say "Hey Siri, start a task"  to your iPhone. After that, time tracking will start automatically.
Unfortunately, time tracking via voice commands is not possible via the Apple Watch, since Apple does not support short commands via the app on the watch.
Time Tracking by Means of Personal Shortcuts
Advanced users can now also use these actions as iOS Shortcuts to, i.e., setup automations. For this you also need an iPhone, the TimeTac app (the permission for mobile time tracking), live time tracking and little technical knowledge.
Localization via office Wi-Fi: You can control the time tracking via the office Wi-Fi. As soon as you enter the office, the time tracking starts, when you leave it stops.
Reminder to track time at a certain time of day: Here you can define automations for certain times of the day and the app will then remind you to track time during this period. For example, if you define 'Start break from 12 to 1 pm', the app will remind you to book the break or 'Stop task between 5 and 6 pm' when you leave the office.
How it works:
Define the shortcuts of the desired automation on your iOS device.
Shoutout to Our Mobile Time Tracking
Get the new version of the iOS app.
Get the new version of the iOS app.