Our New Multiuser App Is Available Now: With Features of Leave Management
by Magdalena Fladl, 20.08.2020
As announced in the last article about the app, your employees can not only track their working and project times with the multiuser app, but now also manage leave days and other absences via a common terminal device. The app is in the final phase of beta testing. In this blog post we have once again summarised the most important functions and advantages of the software terminal for you.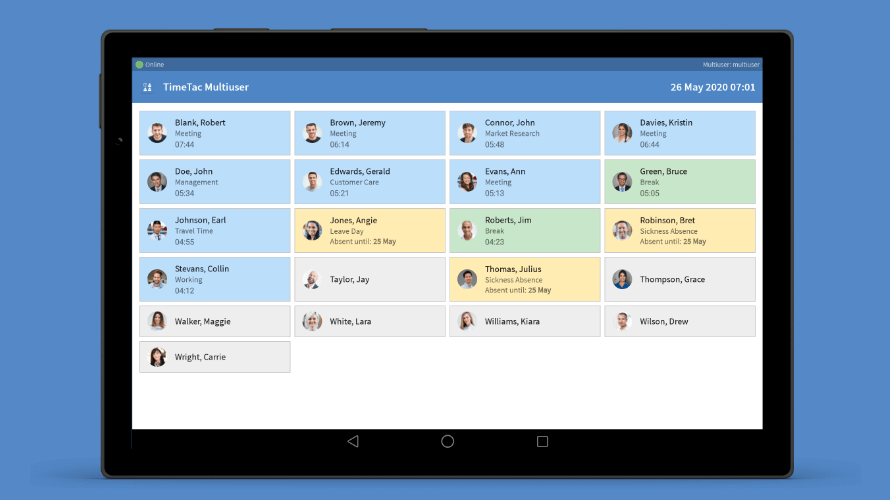 Employee Time Tracking and Leave Management via Multiuser
The new TimeTac Multiuser App can be used as a software terminal on all Android devices. Use it as a classical terminal for employee time tracking or for tracking projects and tasks as well as for leave days and other absences.
The difference to the already existing TimeTac Multiuser App for the web is that the new multiuser app allows users to track time even faster due to the different tracking modes. Furthermore, the Android app is offline-capable and also suitable for time tracking via NFC.
The multiuser access for the Android App is suitable for numerous areas of application as the software terminal can be used both stationary and mobile. The multiuser app offers the terminal function but also time tracking for projects and tasks and leave management and can therefore perfectly be used at workshops and construction sites.
Use the Multiuser App for Your Team!
If you are interested in getting the multiuser app for Android, please contact us at support@timetac.com. Our Customer Care team will get in touch with you.
Time Tracking with the Multiuser App
Easily log in and track your time
Your employees quickly log on to the multi-user terminal via PIN code and/or contactless via NFC tag and NFC-enabled smartphone. The advantage of this is that your employees do not have to go through a time-consuming login process with user name and password but instead only need a four-digit pin code to access the terminal for time tracking. You can enable your employees to log on to the terminal contactless via NFC tag, for example in the form of a chip. All they have to do is hold the chip to the terminal to start tracking their time.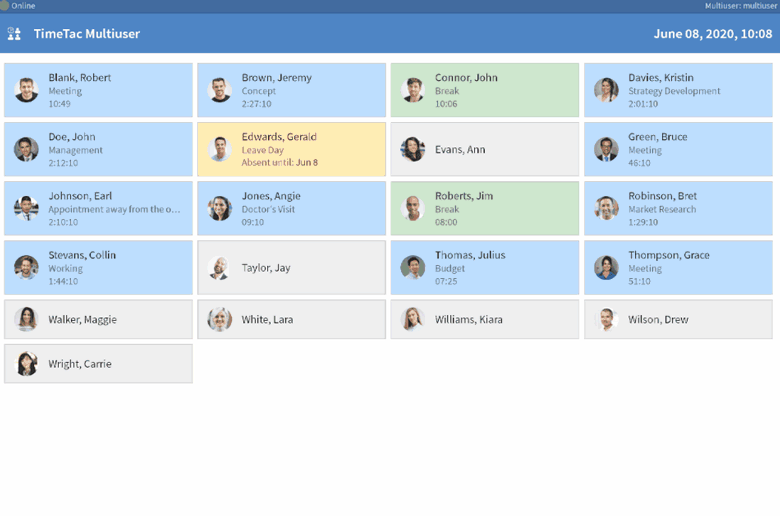 Users can log in via pin code and/or an NFC-Tag with an NFC-enabled Smartphone.
Five Different Tracking Modes for Time Tracking
There are five different views available on the multiuser terminal. These modes allow you to present your tasks and projects clearly. The view ranges from the classic terminal view, in which your employees track their working hours via buttons, to carious views of your project time tracking. You can define which tasks and projects your employees can see and can therefore only enable projects and tasks in the multiuser terminal that are relevant for the respective employees. Thus, your employees can track their time quickly and easily.
Terminal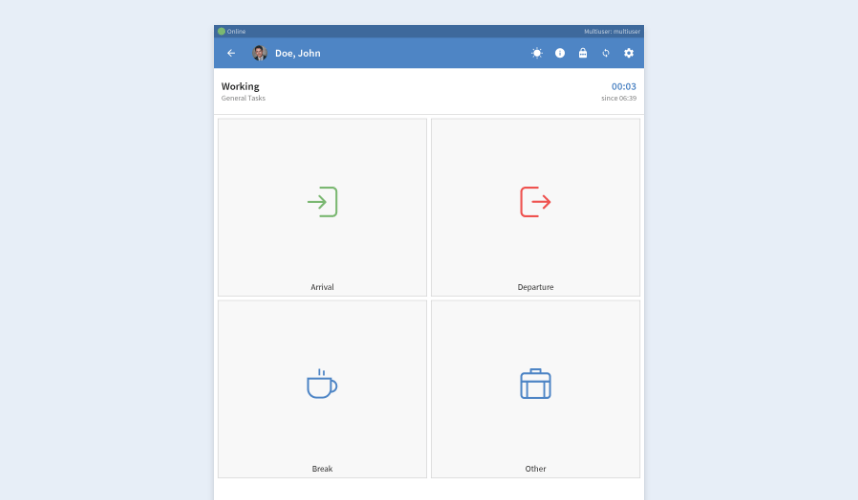 Track time, as on the classic terminal, by clicking on the buttons
Multiuser – Task list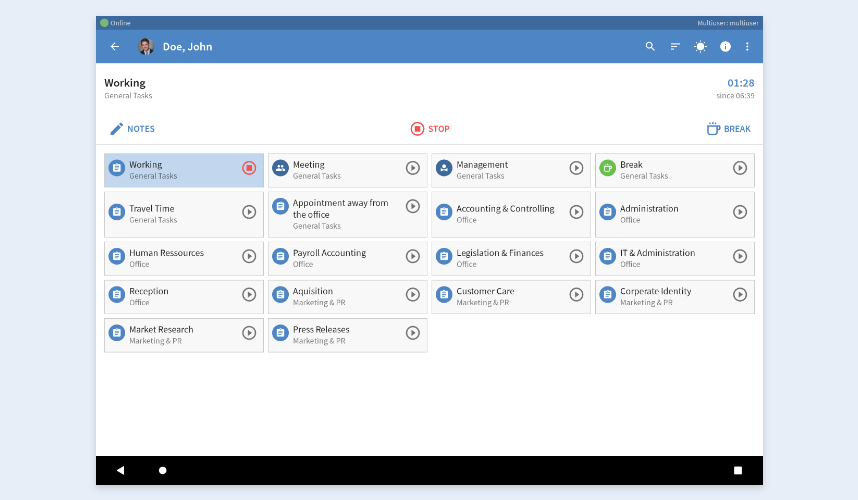 All tasks assigned within the multiuser administration are displayed as a task list.
Multiuser – Project list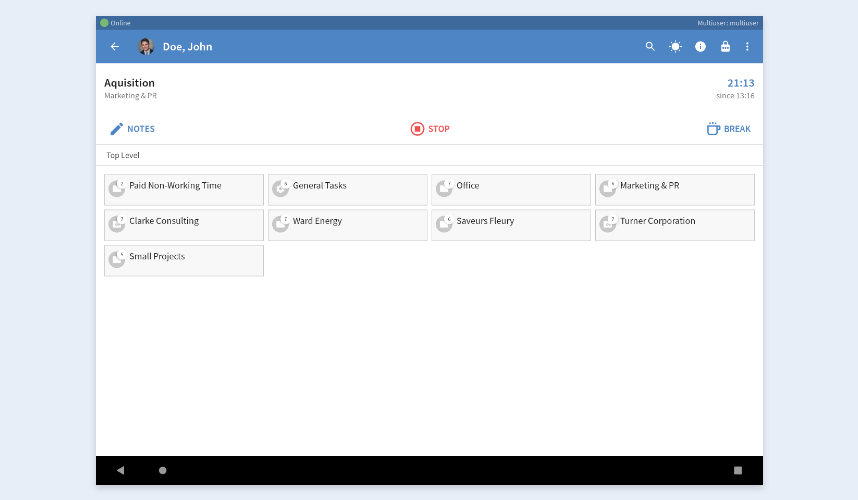 All projects assigned in the multiuser administration are displayed.
User – Task list
Employees can see all tasks to which they have access.
User – Project list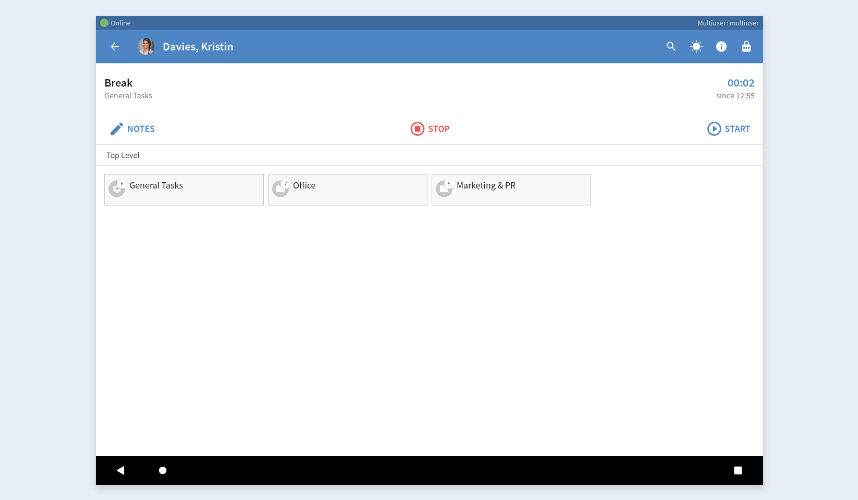 Employees can only see projects for which they should be tracking their time.
Leave Management and Other Absences
All planned or requested absences at a glance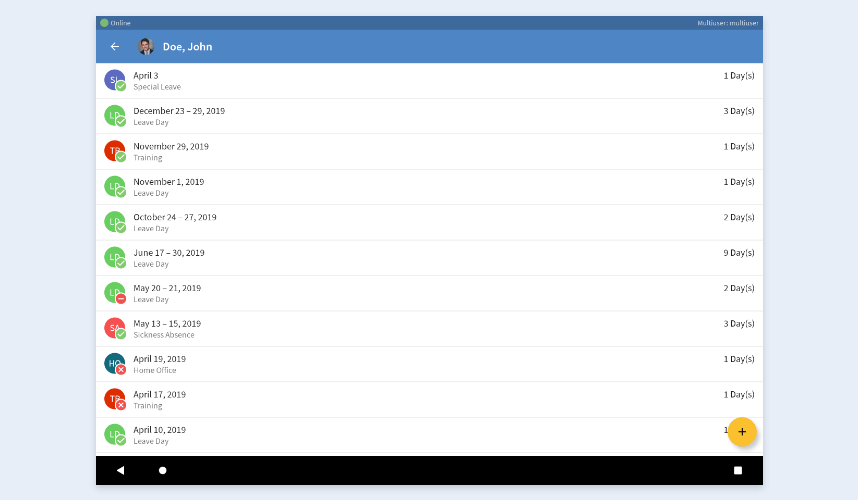 Here you will receive information on the status of your applications and whether they have been accepted or rejected.
A New Request for Leave Days or Other Absences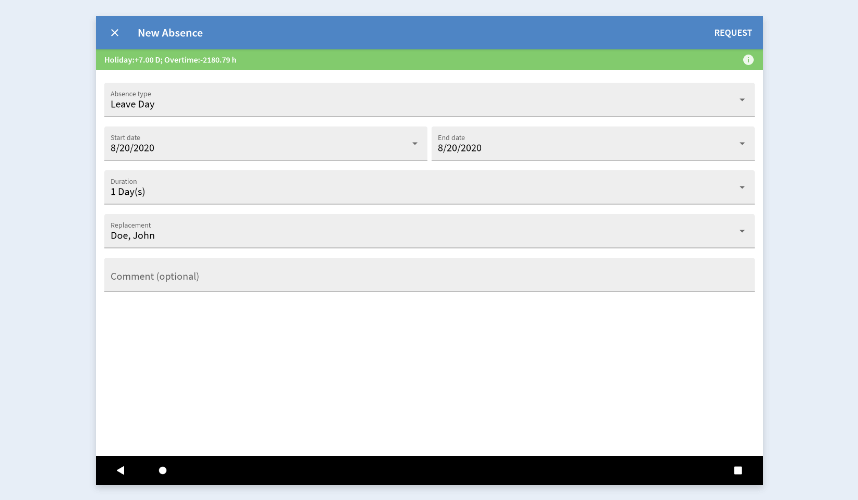 With just one click you can submit requests for leave days or other absences.
Additional Features
Status Overview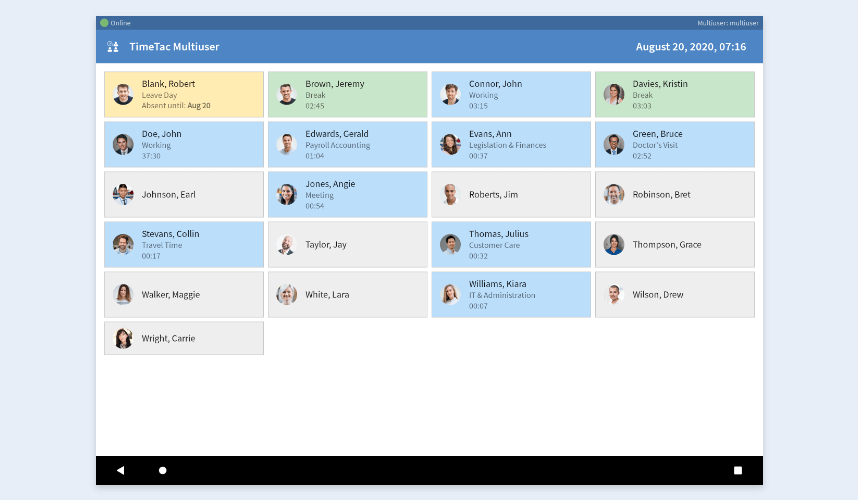 Here you can see who is currently working as well as on which task and for how long.
Info Page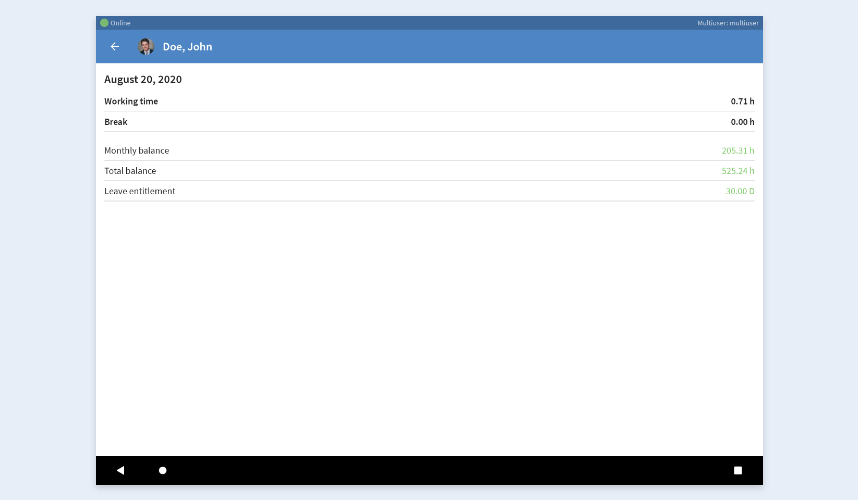 The info page informs you about tracked working time and breaks, as well as the monthly and total balance and holiday entitlement.
One for All and All for One
With TimeTac one can track the time for the whole team.