Geofencing: Test the New Feature of Our Time Tracking App for Android
by Magdalena Fladl, 16.01.2020
We are happy to start our new year with a preview of our new feature of our TimeTac App for Android: Geofencing. Our customers are more than welcome to exclusively test the beta version of the app feature. Find out more about how you can predefine areas where time can be tracked mobile.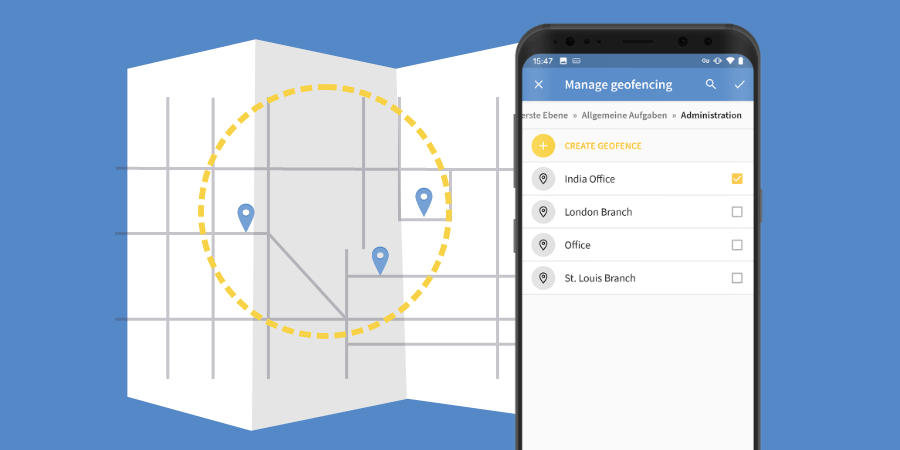 Define Geographic Areas for Mobile Time Tracking
With our new geofencing feature, you can define specific geographic areas for mobile time tracking. Thus, you ensure that time can only be tracked with a smartphone when the specific area (which is called "Geofence") has been entered.
Test the new feature exclusively! You are already a TimeTac customer, you are using our mobile time tracking app and you want to test our geofencing feature for the Android App? Contact us at support@timetac.com.
How Geofencing Works
Easily and individually define geographic areas for the start of time tracking or specific tasks. Geographic areas can be company locations, streets or cities. The TimeTac App uses the GPS, WLAN, and mobile signals to locate the user and virtually restrict time tracking. The virtual boundary is called "Geofence". Users can only start to track their time by entering the defined geographic area. Thus, you ensure that employees can only track time within your desired and defined area. Outside of the defined geographic area, it is not possible to track time. The user receives an error report.
How to Manage Geofencing
Easily define and manage geofences within TimeTac's manager function. Create geofences within google maps. Geofences can be assigned to one or more tasks or projects depending on your TimeTac configuration.
Time Tracking with Geofencing
Keep track of where exactly the time is recorded.