What's New with the TimeTac App?
by Anna Eisner-Kollmann, 02.02.2023
We are constantly improving the usability of our mobile apps and developing new features to make time tracking even more accessible and convenient for you. In this blog article, we want to inform you about our apps' improvements and newly developed functions.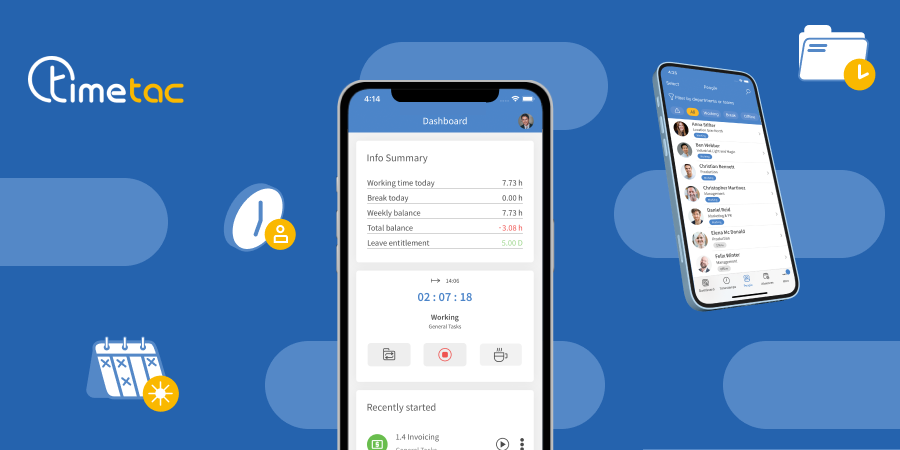 Newsflash: TimeTac App Improvements
All those who already use the TimeTac app for time tracking will receive updates directly in the app. If you don't use mobile time tracking yet, one or the other improvement might convince you to do so. By the way: The app is free for customers, and you define independently in the account which employees can use it.
News und Updates iOS-App
News und Updates Android-App
How Many Hours Did You Work?
Click "More" and find detailed information under "Working Time Statistics". There you will see figures and a clear diagram of your working hours. What you can see at a glance:
Your working time per week, month, or year
The sum of hours in this period or if your working time balance is positive
Whether it is regular working time or paid non-working time, such as compensatory time off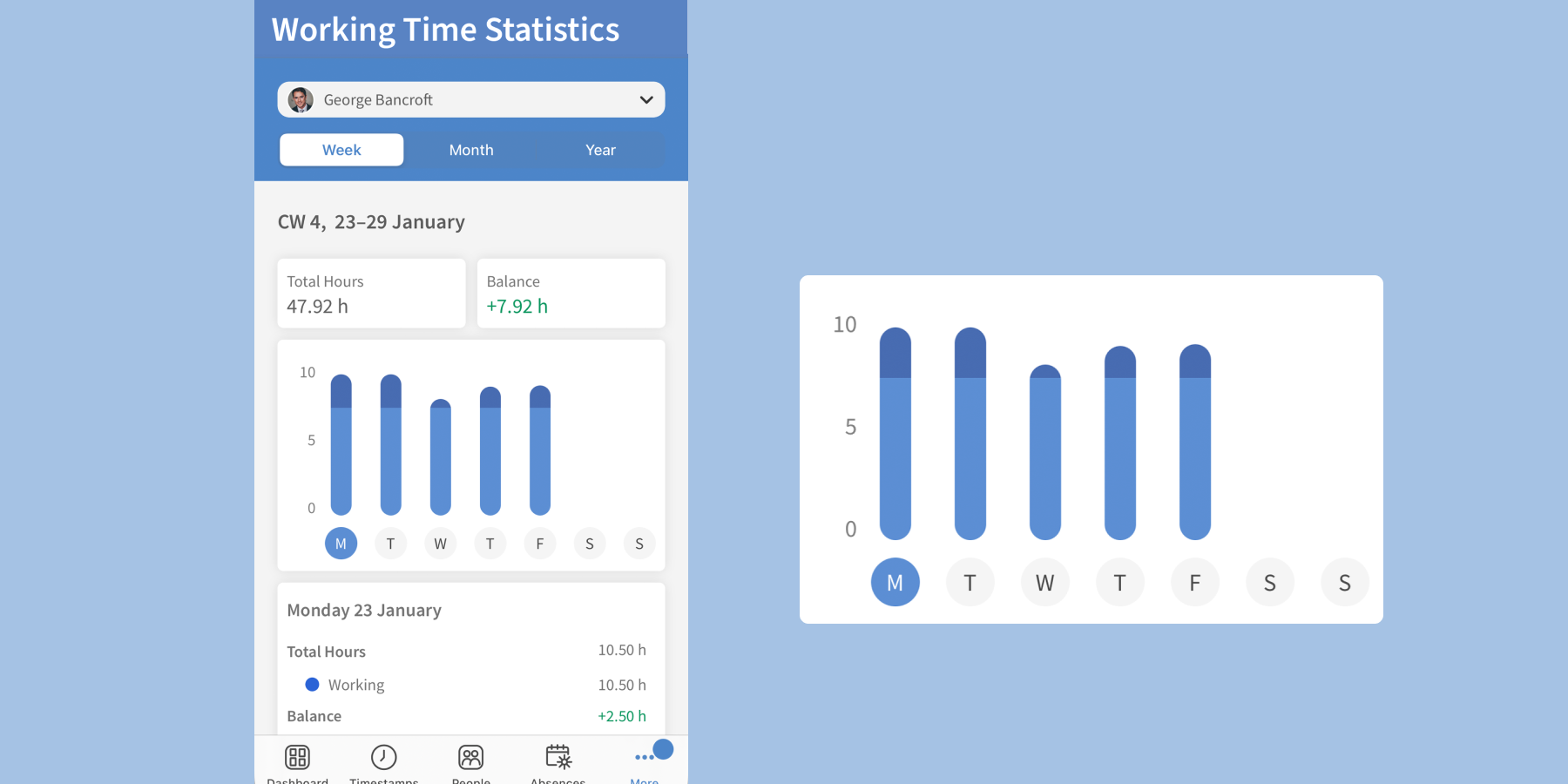 How many hours did I work so far?
View Your Team Status
Knowing who is now available at work or not makes team coordination much more effortless.
"Status overview"now is named "People": To get the overview even faster, we have renamed the "Status overview" to "People".
View the status directly in the section "People": All employees are listed and displayed in color, who is working (blue), absent (yellow), or offline (gray). Thanks to the new filter function, you can see directly who is working or currently on a break, for example.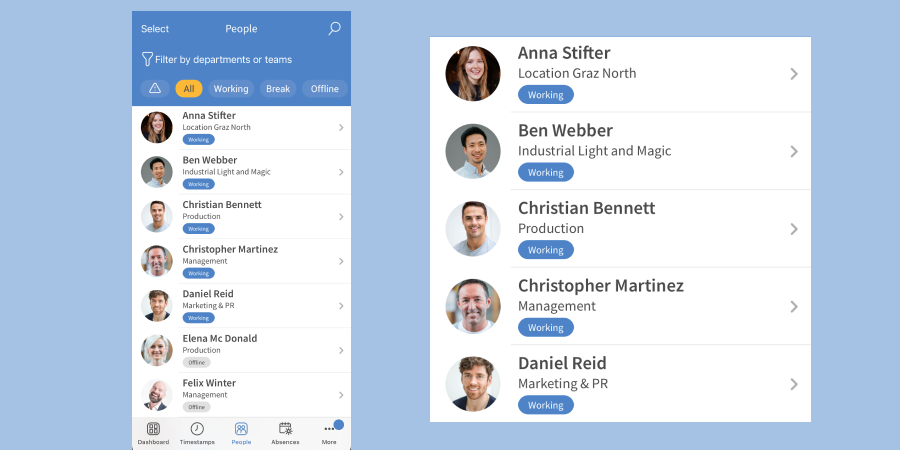 Who is working today?
Want to chat? In a person's profile, you can see the email address or send a direct message within the app.
What exactly is being worked on, and since when? Authorized persons can also see what task the person is currently working on, since when or what the absence time is.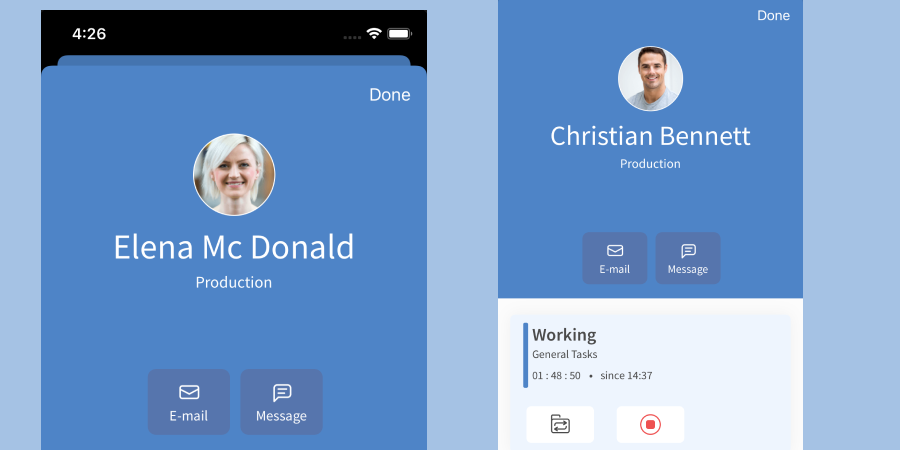 Contact person directly right away. Authorized people also see status details.
Important information at a glance: Statistics directly on the home screen (iOS)
You no longer have to start the app to get information about your working hours. With our two new widgets, you have the working time statics directly on your home screen. You decide how much info you want to see based on the two widget sizes available.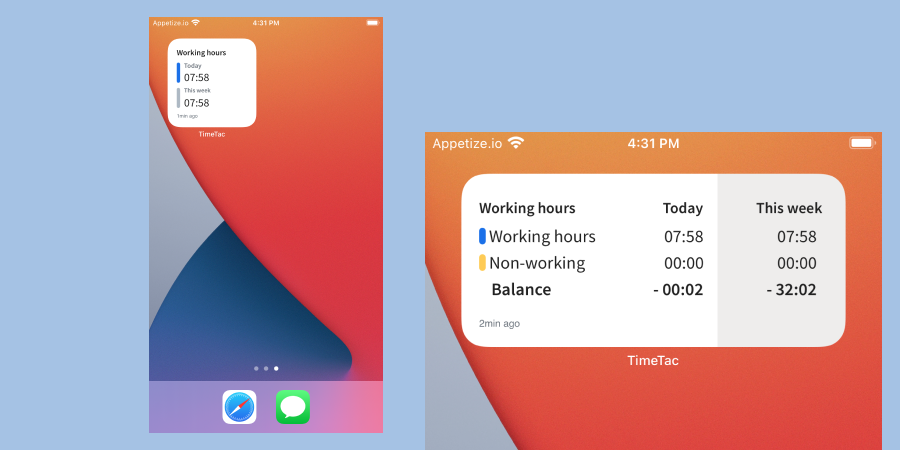 Everything directly on the screen.
Press and Hold: Track Time Even Faster
Have you already discovered our convenient long press feature? Go to the TimeTac icon, press, and hold it. Voilà: A widget opens, and you can start, pause or end your time entry.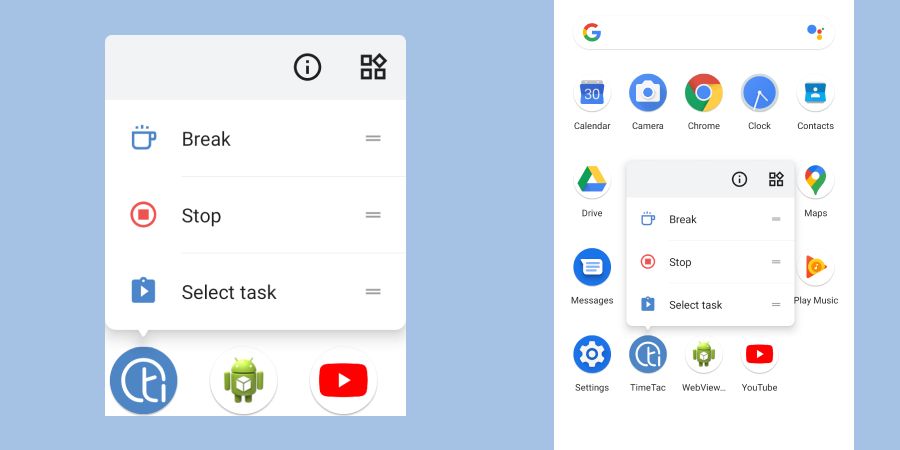 Nice feature that saves time.