Time to say thank you
by Magdalena Fladl, 16.12.2020
2020 was a year that has brought us a great deal of uncertainty and change as entrepreneurs. But upheavals don't just bring uncertainty, they also offer us the chance to explore new, unfamiliar paths and engage in innovative solutions. We at TimeTac are happy and thankful that we were able to bridge this year well, thanks to our loyal customers and dedicated employees, and that we were even able to develop and grow further in many respects. Therefore, it is time for us to say thank you.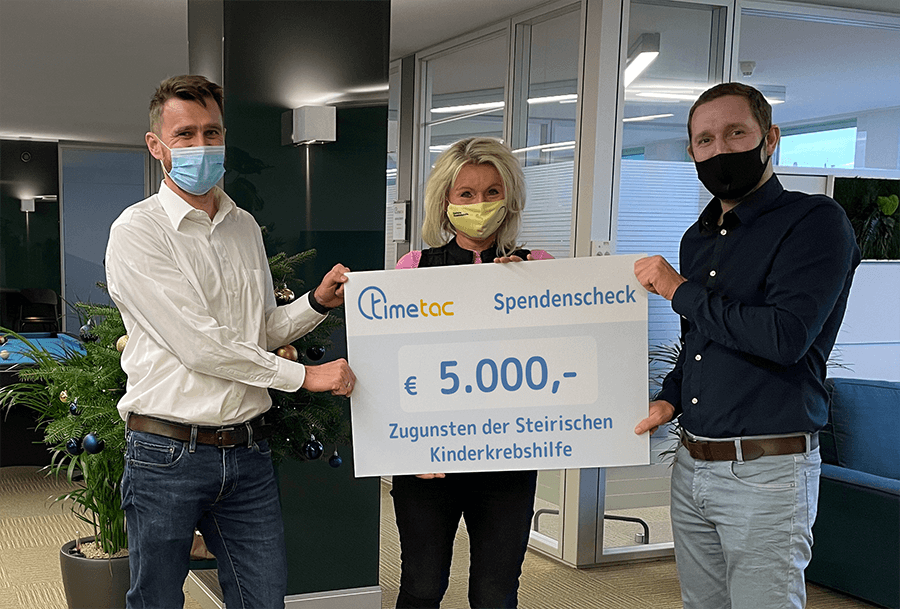 DGKS Doris Prasch from the Styrian Childhood Cancer Organisation, Bernd Pichlbauer and Michael Hermann from TimeTac
A challenging year full of changes
Because of your trust in our work and our motivated employees, we were able to bridge the year very well and even grow further. Above all, we have expanded our customer service and product development departments and strengthened them with new employees to be able to advise you promptly and in the usual quality, especially in these more consultation-intensive times.
We would like to use this pre-Christmas period to think of those who are not as well off as we are. Therefore, we are supporting the Steirische Kinderkrebshilfe (Styrian Childhood Cancer Organisation) again this year. The fate of the affected children and families is very close to our hearts and we appreciate the great work of this organization. Especially this year it is very important for us not to forget the support of these children and their families in times of Corona.
We would like to thank you for your trust and the good cooperation and wish you and your employees a reflective holiday season and the most important: stay healthy!